Oregon is gorgeous and has a lot of pretty places to visit.  There's a lot of adventure to be had in Oregon, and it might be overwhelming trying to make a list of just a few things to do in Oregon during your trip.  While we couldn't cover them all, these are some of the best places to visit in Oregon.  Some of the things on the list could take weeks to fully explore, and others can be grouped together to visit in one weekend.
Our Top Favorite Things To Do In Oregon
1. Mount Hood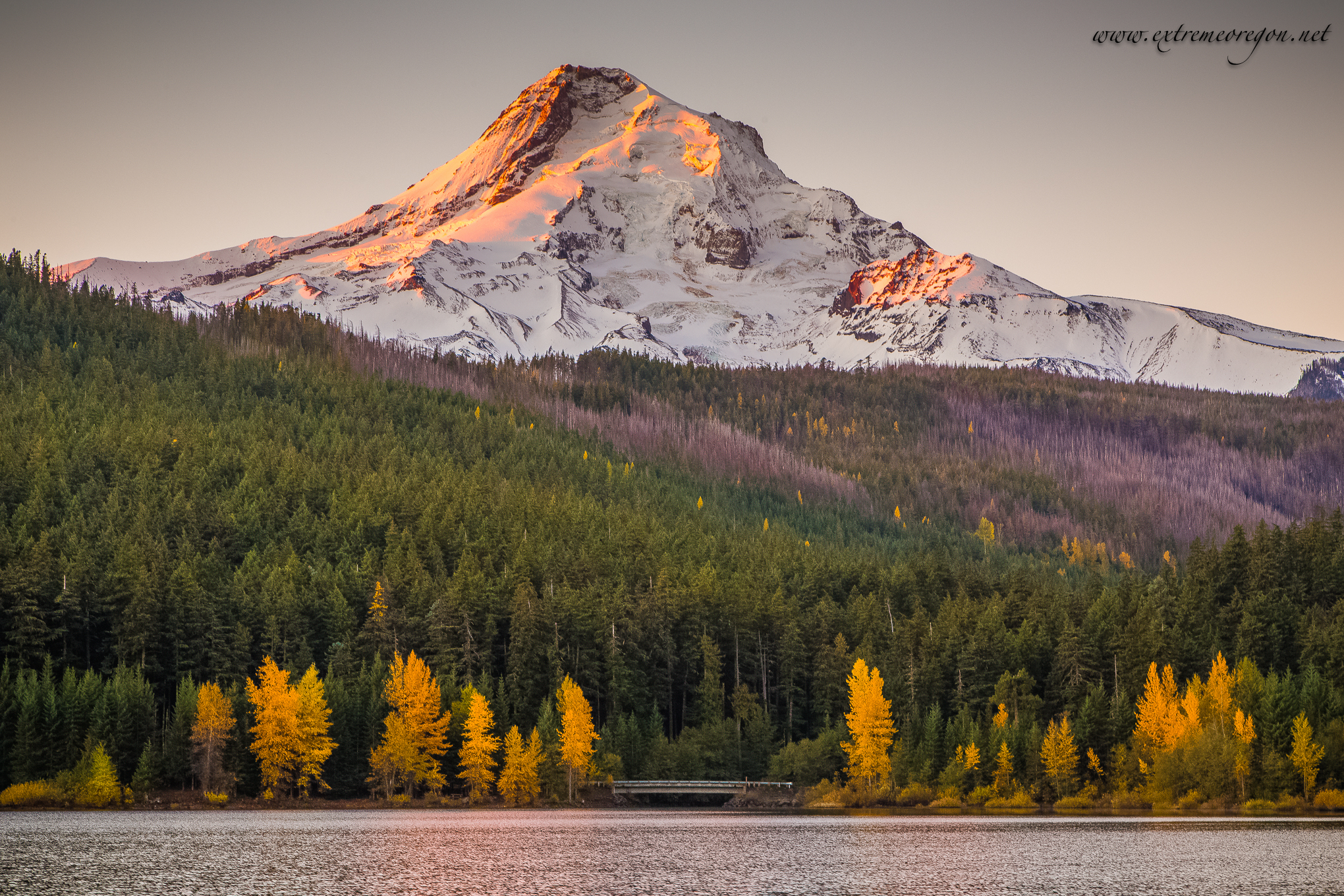 When people think of ski resorts in Oregon, they often think of Timberline Lodge and Mt Hood Meadows.  Not a lot of people realize just how much Mt. Hood has to offer year round.  Sure, you can't ski or snowboard in warm weather, but in the summer there's an adventure park with over 20 attractions, including: zip lines, bungee jumps, obstacle courses, rock walls, go carts, mountain biking, hiking trails, mini golf, disc golf, batting cages, and a tree top ropes course to name a few.
In the winter the adventure park features cosmic night tubing. Let's also not forget about visiting Trillium Lake and hiking throughout the Mt. Hood wilderness area.
2. Wildlife Safari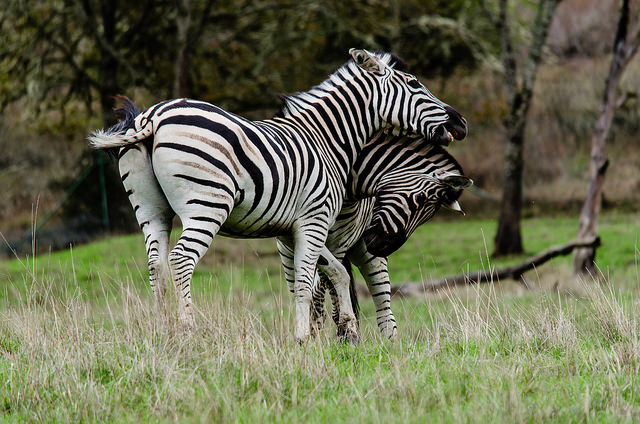 The Wildlife Safari in Winston Oregon is an amazing place to visit whether you're an adult or taking your family.  This place isn't just a zoo, it's a safari experience.  Get more information about the park here.
If you're in the Portland Metro area and want a zoo experience, check out the Oregon Zoo.
3. Sea Lion Caves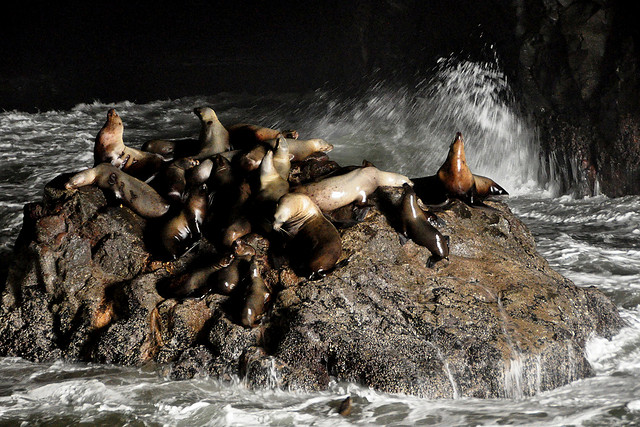 Not many people know that Oregon is home to America's largest Sea Cave, and that this Sea Cave is home to hundreds of wild sea lions.  Sea Lion Caves is truly a magical experience any time of year.  If you want to visit, check out their page to see prices and learn some interesting information and history of the caves.
4. Crater Lake National Park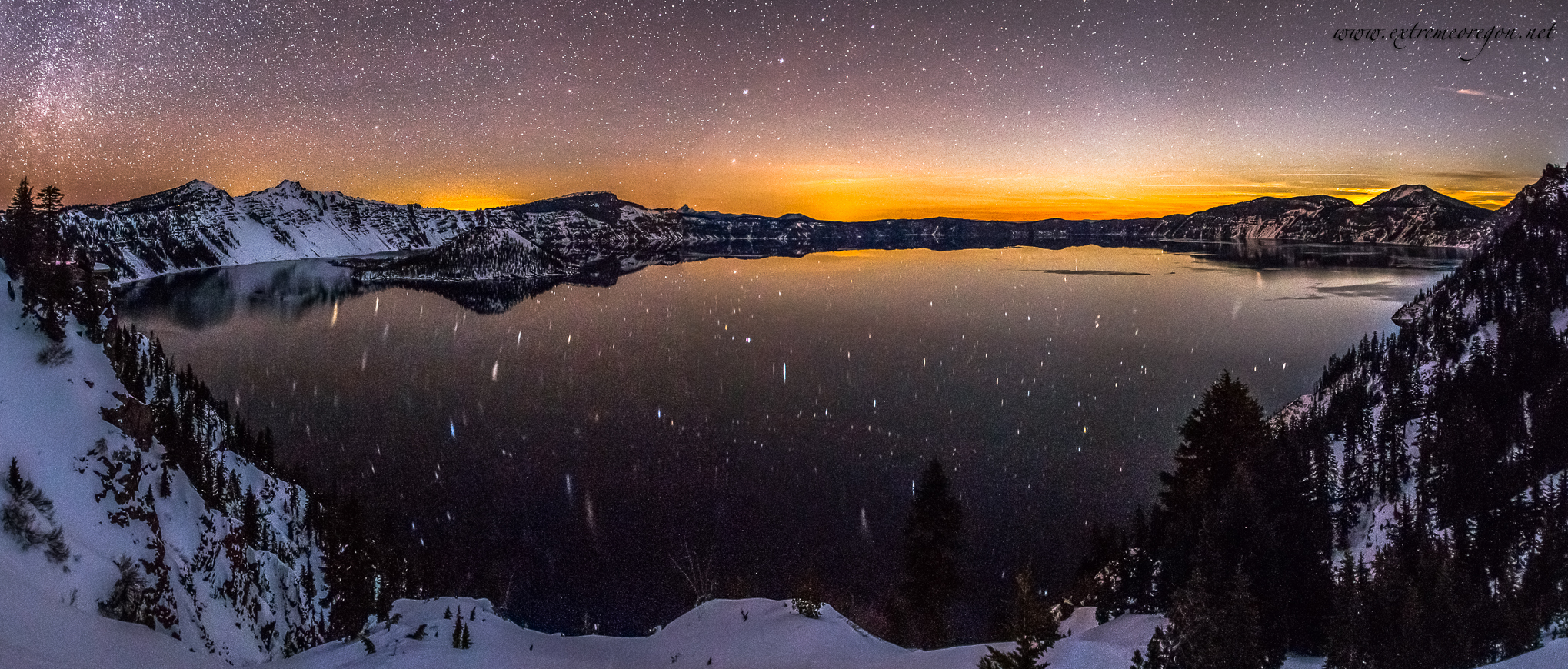 When people across the US think about Oregon, they think of the Oregon Trail and Crater Lake.  In fact, many thousands of visitors from other states and countries come to Oregon every year just to visit Crater Lake and take in the stunning vistas.  A lot of people take a leisurely drive around the Rim Drive in summer, but don't realize how much there is to do inside Crater Lake National Park.  There are waterfalls to see, trails to hike, fishing and camping opportunities, and interpretive visitor centers.  Don't forget to visit the pinnacles.  If you want to stay for a few days, you can branch out your exploration to the nearby Union Creek area, the Diamond Lake area, or take a drive along the Rogue-Umpqua Scenic byway to view dozens of beautiful waterfalls.
5. Silver Falls State Park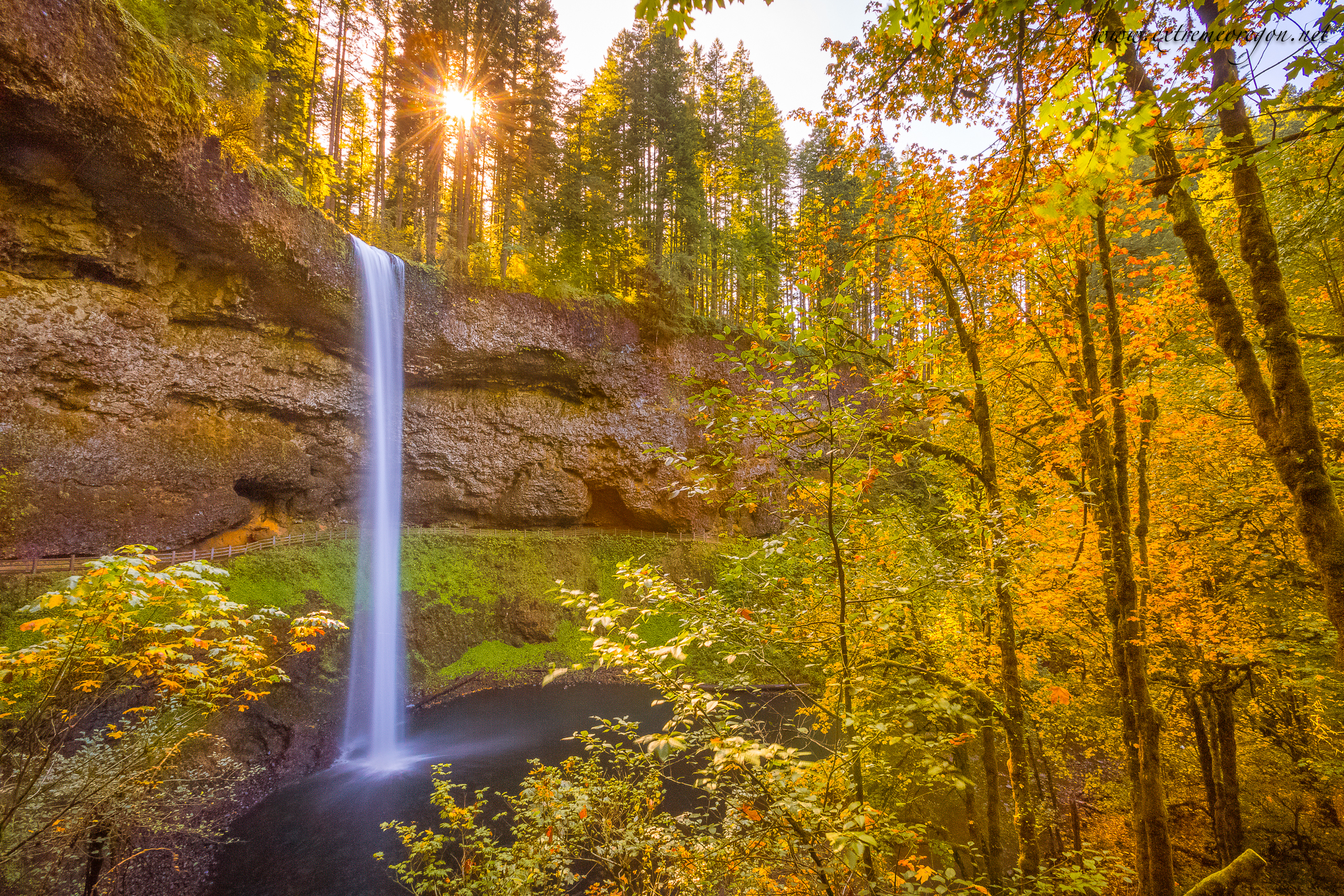 If you've never been to Silver Falls State Park then you're missing out.  Maybe you just don't want to walk behind a 177 foot waterfall, enjoy the lush forested scenery, swim in blissfully cool waters, or take a hike around the moderate 7.2 mile Trail of Ten Falls.  While it can be crowded in the warm months, this is an ideal place to get out and just enjoy nature.  There are also camp sites, picnic areas, and horseshoe pits.  If you're in the area and looking for a good place to stay outside the park, Camp Dakota is like summer camp for adults with paintballing, zip lines, tomahawk throwing, a warrior challenge course, yurts, and more.  Camp Dakota is about 35 minutes away from Silver Falls State Park.
6. Evergreen Aviation And Space Museum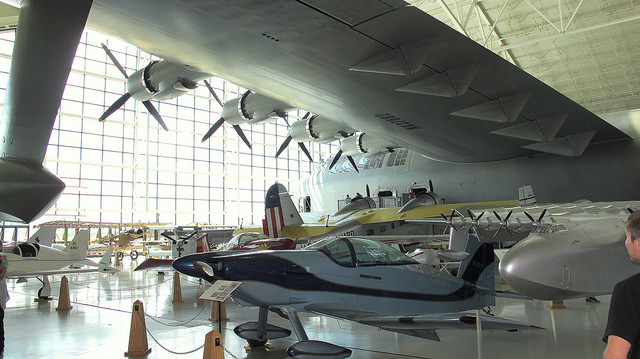 Have you ever heard of the Spruce Goose, the largest wooden airplane ever made that flies?  I bet you didn't know this historical plane (also the subject of the movie the Aviator) resides at the Evergreen Aviation and Space Museum in McMinnville Oregon.  This is one of the coolest museums in Oregon and you're sure to have a great time.  If you're on the coast, you may also want to consider checking out the equally cool Tillamook Air Museum.  Or if you really love airplanes and want to see both museums in one day, they are only an hour and half drive from each other.
7. Oneonta Gorge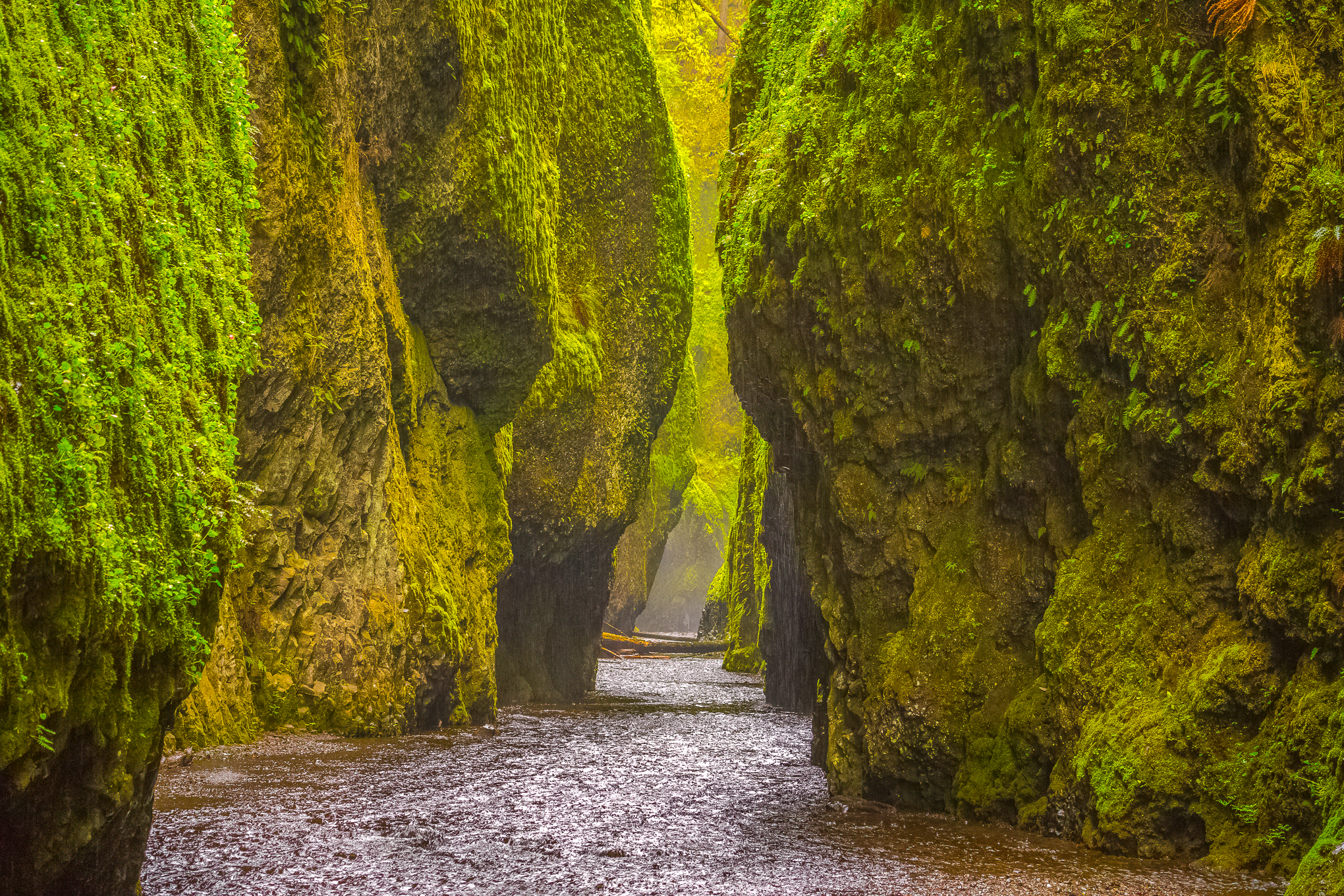 Oneonta Gorge is one of those secret hidden beautiful places in Oregon that isn't really a secret anymore. It can be crowded in the summer, but it's well worth the visit if you don't have children with you.  When the trail is open you can go on an adventure and hike through the cool waters of Oneonta Gorge to see the waterfall at the very end.  Be sure to bring your camera (if you can waterproof it) and wear clothing you don't mind getting wet up to your chest.  As always, be sure the trail you want to hike is open and explore at your own risk.
8. OMSI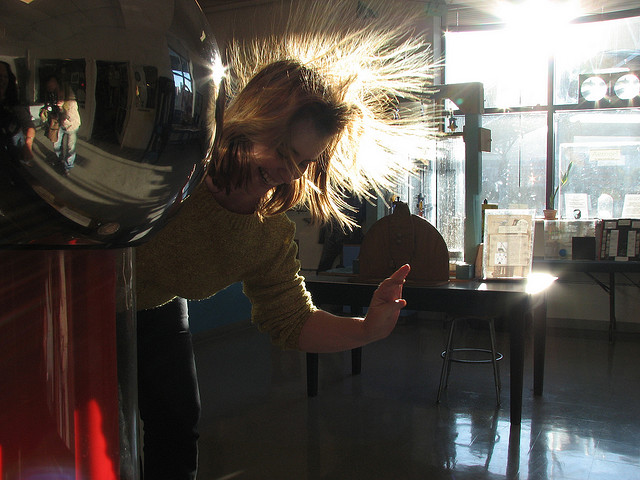 The Oregon Museum Of Science And Industry is an awesome interactive museum for kids located in Portland.  The exhibits change several times a year so it's worth going back every few months to see what's new.  From the physics of skateboarding, to the miracle of birth, and exhibits that allow you to create your own invention, this is sure to be a hit with your entire family.  Whenever we go we are never able to make it through the entire museum in one day as it's so big and there is so much to do and see.  Your best bet is to go on a weekday and avoid weekends as it can get crowded.
9. Oregon Coast Aquarium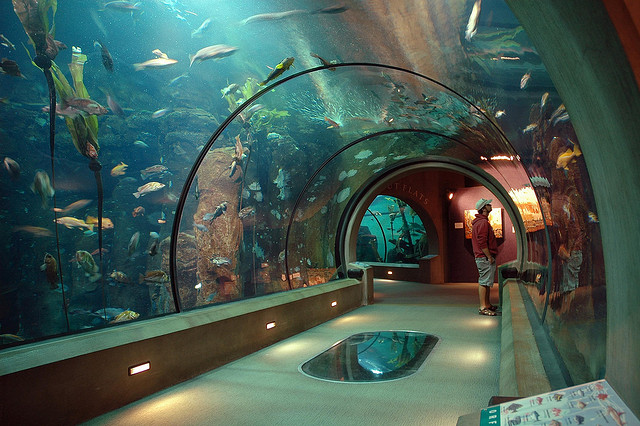 There is so much to do and see on a vacation on the Oregon coast, but your vacation wouldn't be complete without stopping by the Oregon Coast Aquarium in Newport.  After all, where else can you get kissed by a sea lion, shake hands with an octopus or sleep with the sharks?  The aquarium has many interesting and educational exhibits but also offers behind the scene tours and programs aimed to give children ages eight through adult a hands on experience.  Be sure to check out their page to plan your visit, check schedules of behind the scene tours, and see pricing of the different programs.
10. Painted Hills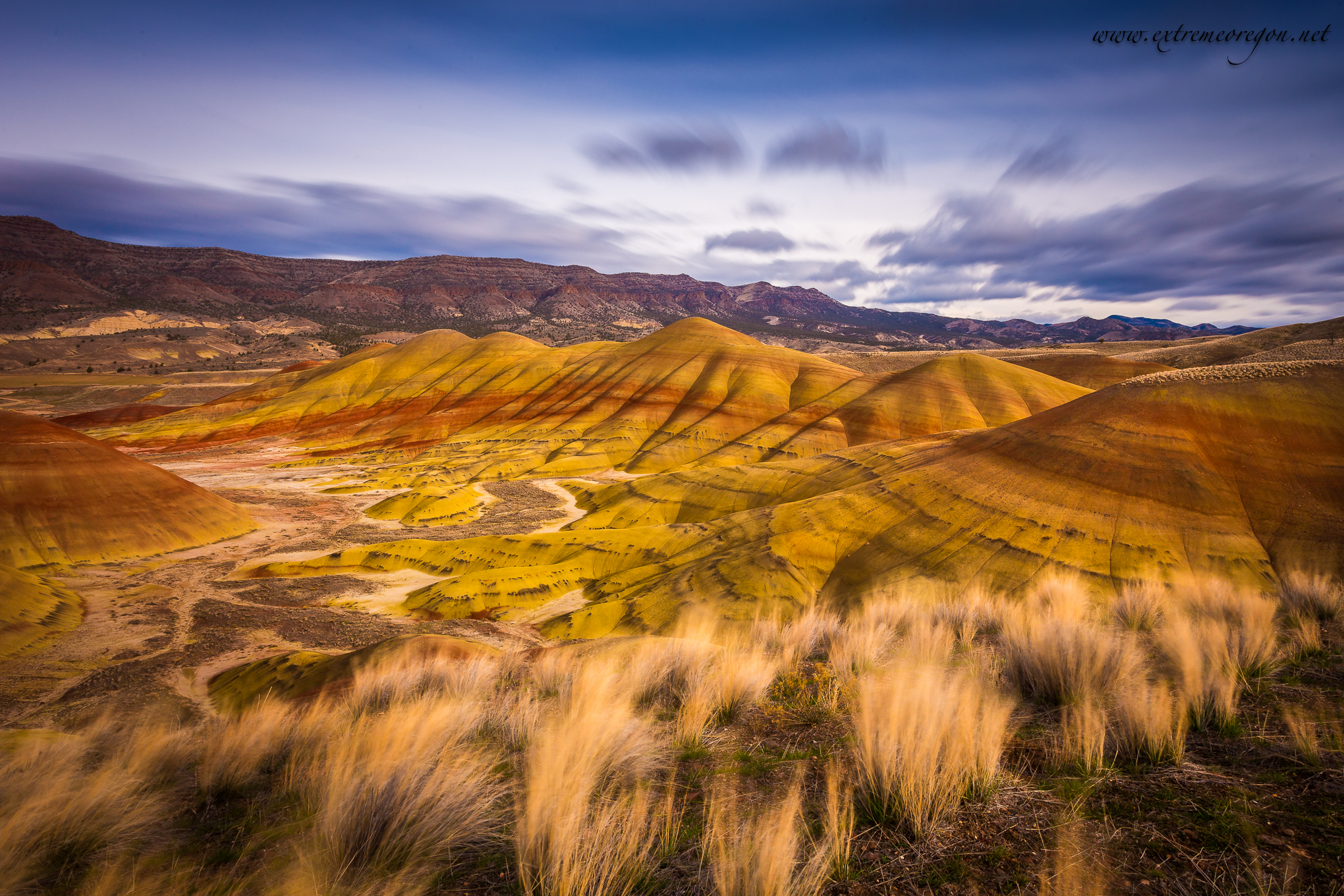 Yellow, gold, black and red.  That's what you'll see when you visit Oregon's Painted Hills.  The hills are composed of heavily eroded volcanic ash layers, and show like a rainbow of colors.  There are three units in the John Day Fossil beds where the painted hills are found, and because the three units are spread so far apart it's recommended that you take at least two days to visit if you plan to see them all.  It is possible to see all three units in one day if you get a very early start.  One of our favorites is the Sheep Rock unit.
11. Visit Gorgeous Astoria Oregon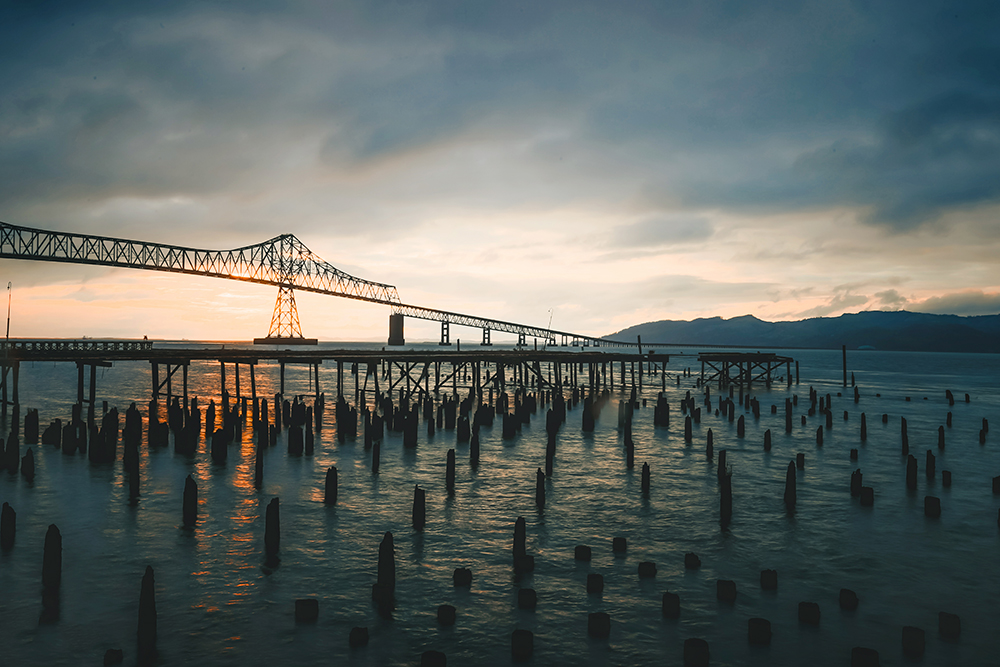 If you've ever seen the 1985 cult classic film The Goonies, you'll be familiar with Astoria Oregon.  We love Astoria for how gorgeous the area is and for all the things to do, including visiting the many filming locations for The Goonies.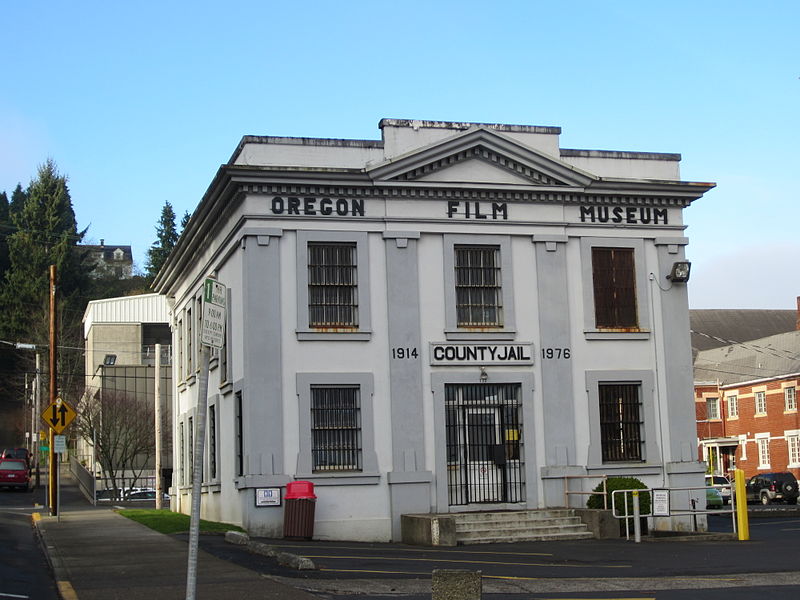 Visitors will love the Oregon Film Museum, The Flavel House Museum, the Astoria Saturday Market, the many delicious restaurants and gorgeous bed and breakfasts.  Check out our list of things to do in Astoria Oregon here.
12. Smith Rock State Park
 

View this post on Instagram

 
Smith Rock State Park is one of those Oregon gems you really should visit at least once.  This gorgeous park features world class rock climbing, wildlife, stunning views and miles of trails.
Visitors will enjoy seeing steep river canyons, deer and bald eagles, and climbers will love the more than a thousand bolted climbing routes.
13. Surf Bend Oregon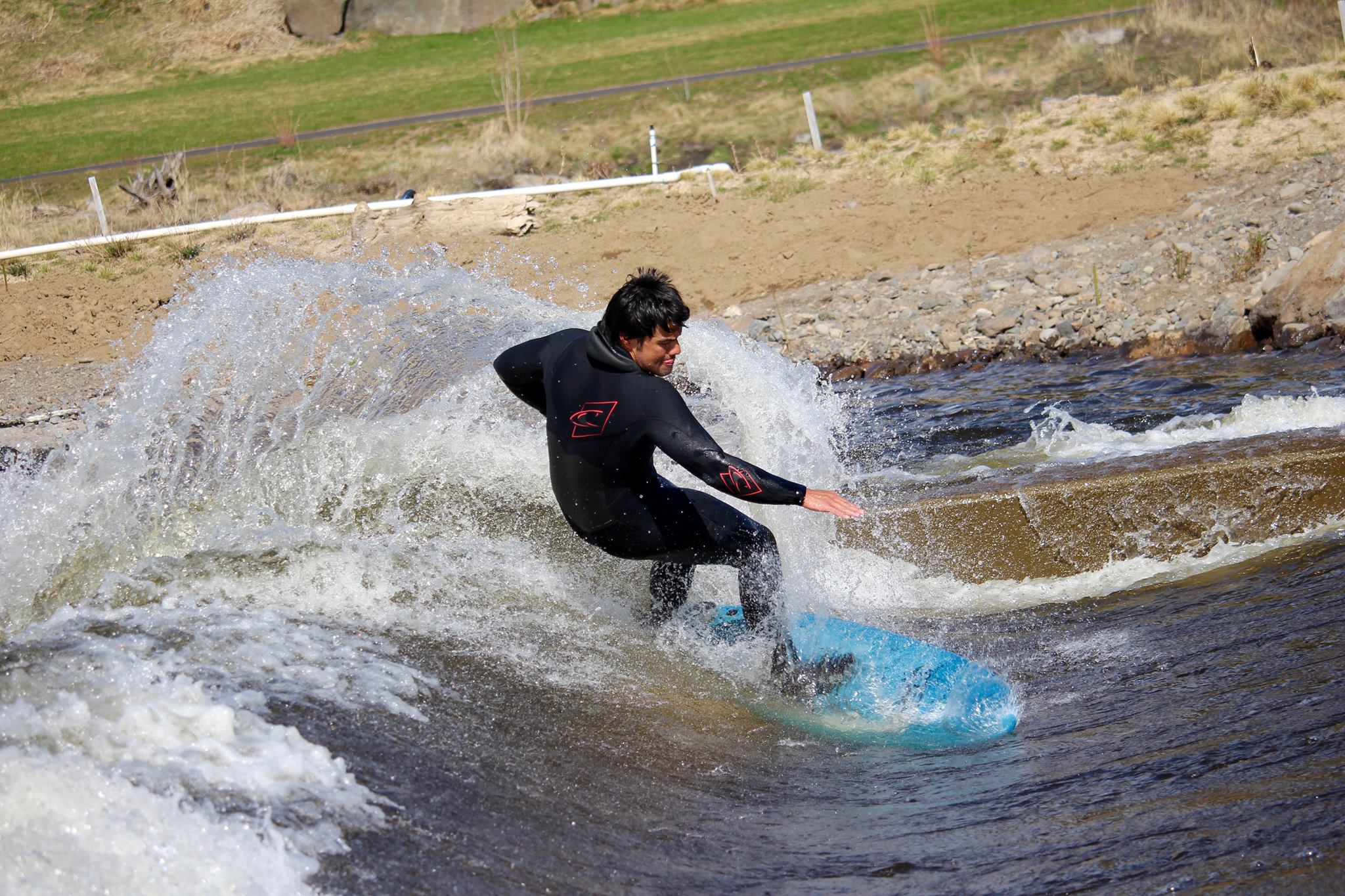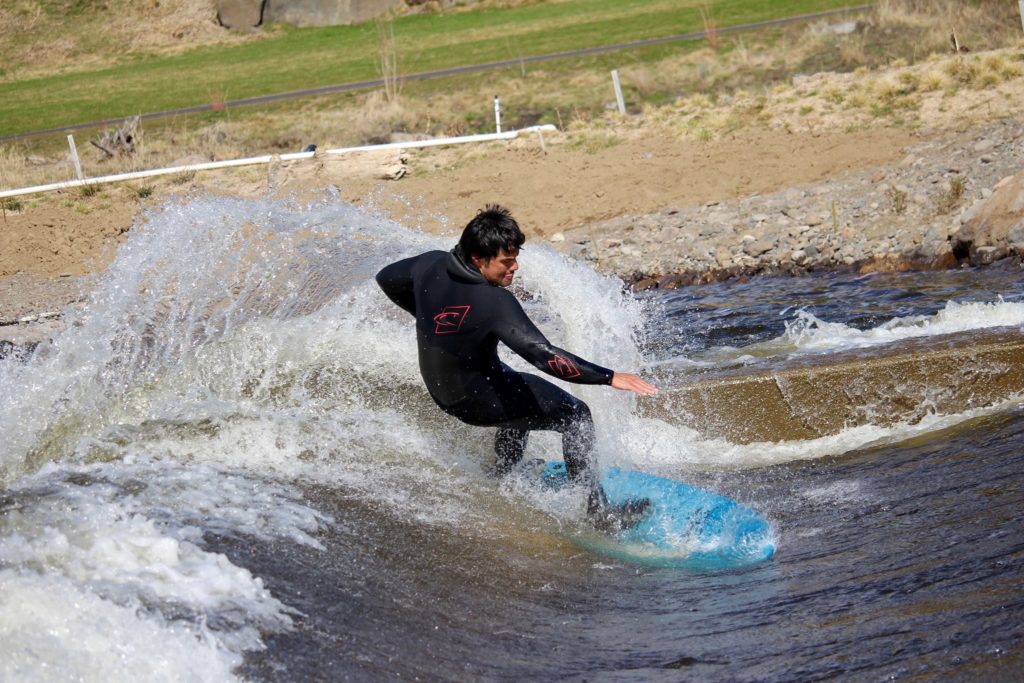 Bend and Sunriver are gorgeous high desert towns with a lot of outdoor activities.  Because Bend is located so far inland, you wouldn't think it to be a surf destination, however the Bend Whitewater Park has become a unique spot that draws surfers in from all over the US.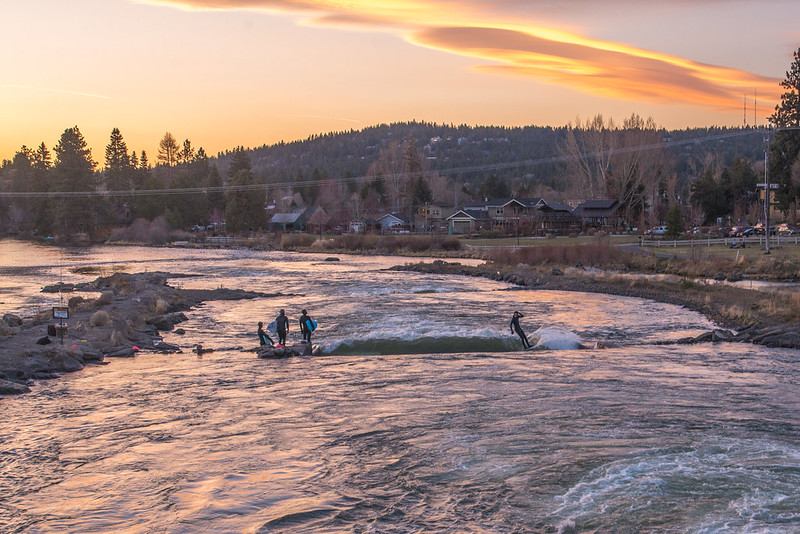 These manmade waves in the middle of the river can be used for tube floating, whitewater kayaking, river surfing, river bodyboarding, and whitewater paddle boarding.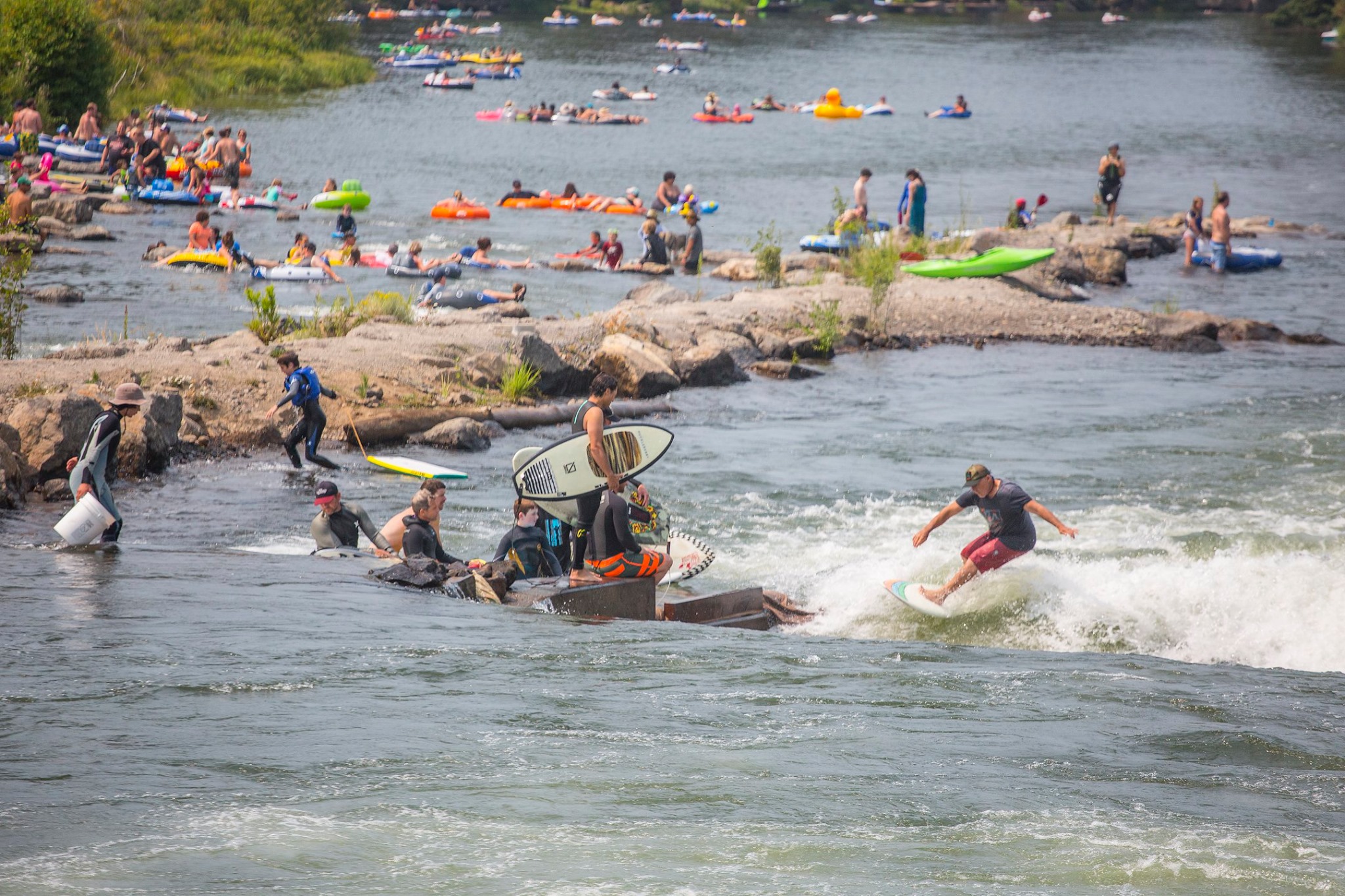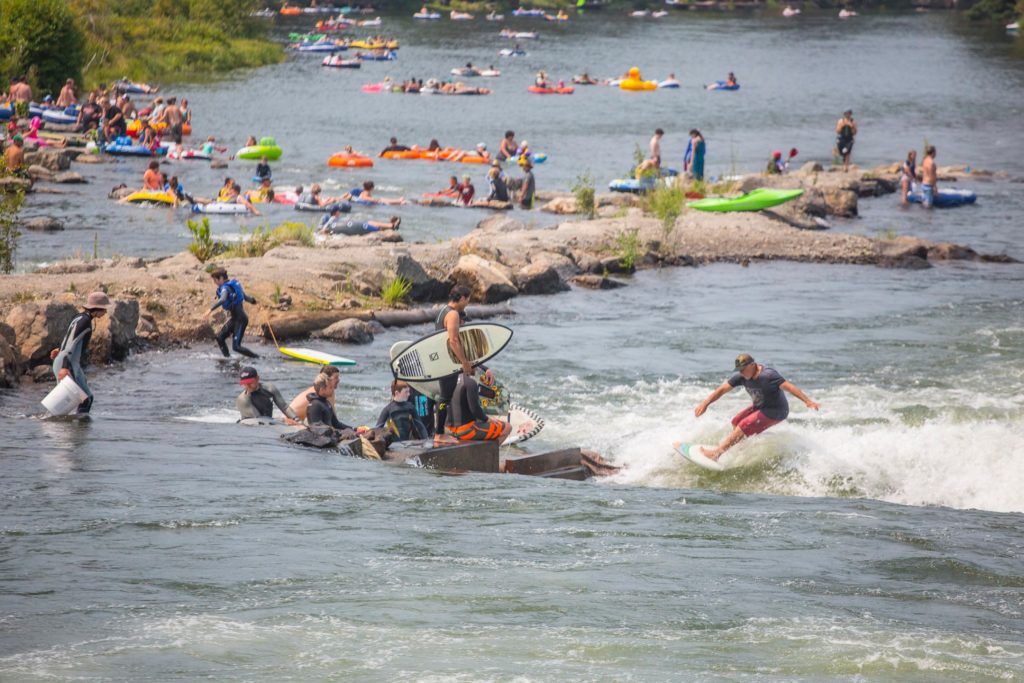 The park has a whitewater channel for those with experience looking for adventure, and a floaters channel for those just looking to relax.
14. Visit Beautiful Southeast Oregon
 

View this post on Instagram

 
Southeast Oregon is remote, stunning, and beautiful.  Many people think of Oregon as a lush, green forested state, though not many realize that two thirds of Oregon is high desert.
Southeast Oregon is sparsely populated and the perfect place to get away from city crowds for a while.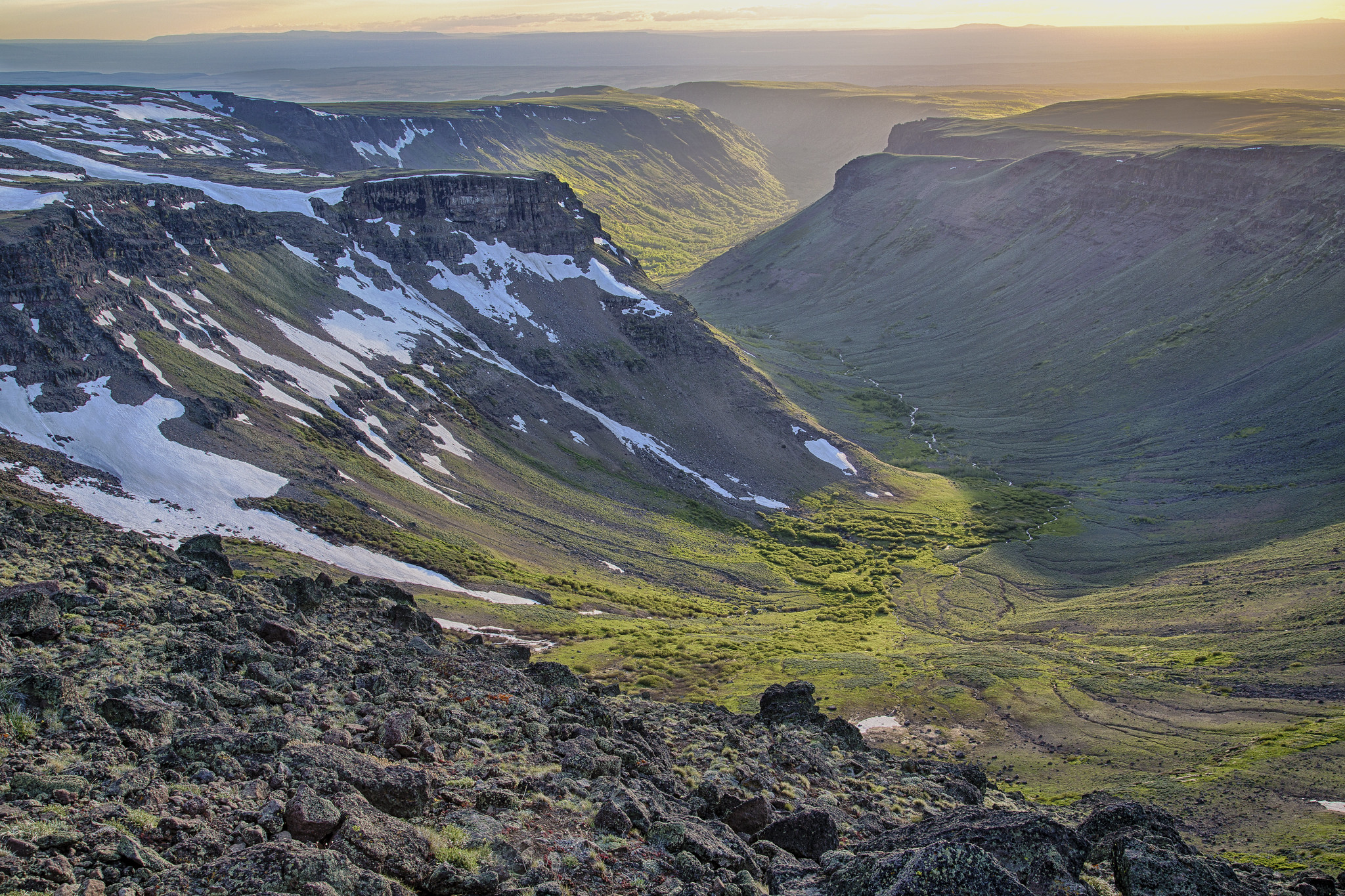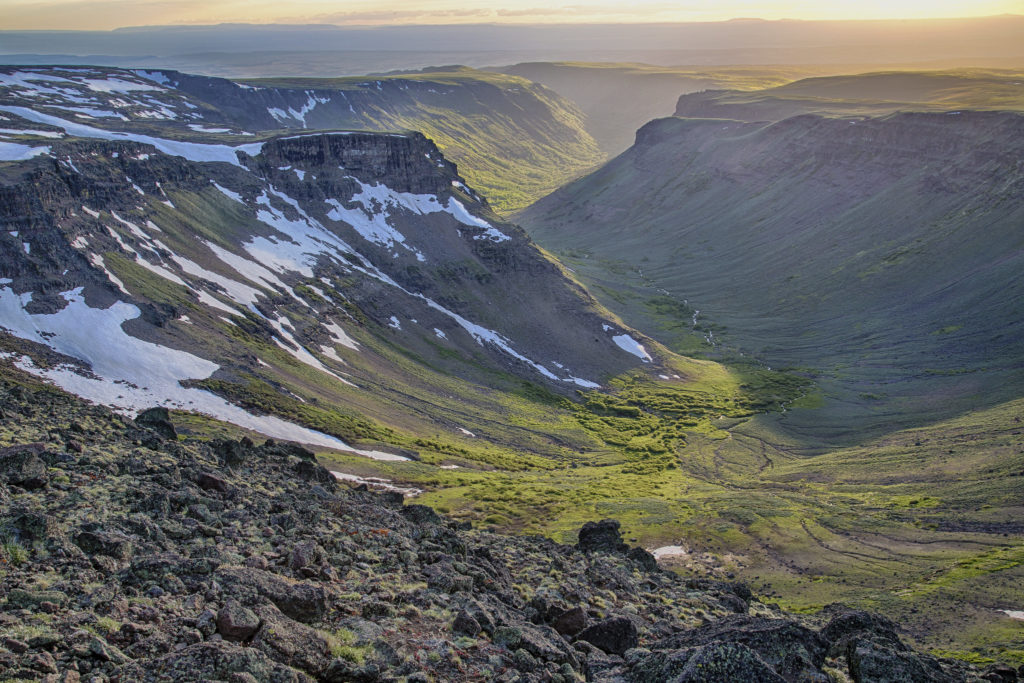 From collecting sunstones, to viewing wild horses and soaking in incredible hot springs, Southeast Oregon is a treasure most people don't even realize is the perfect place to explore.  Check out our list of the top 10 reasons you should visit Southeast Oregon.
15. Check Out All There Is To Do In Northeast Oregon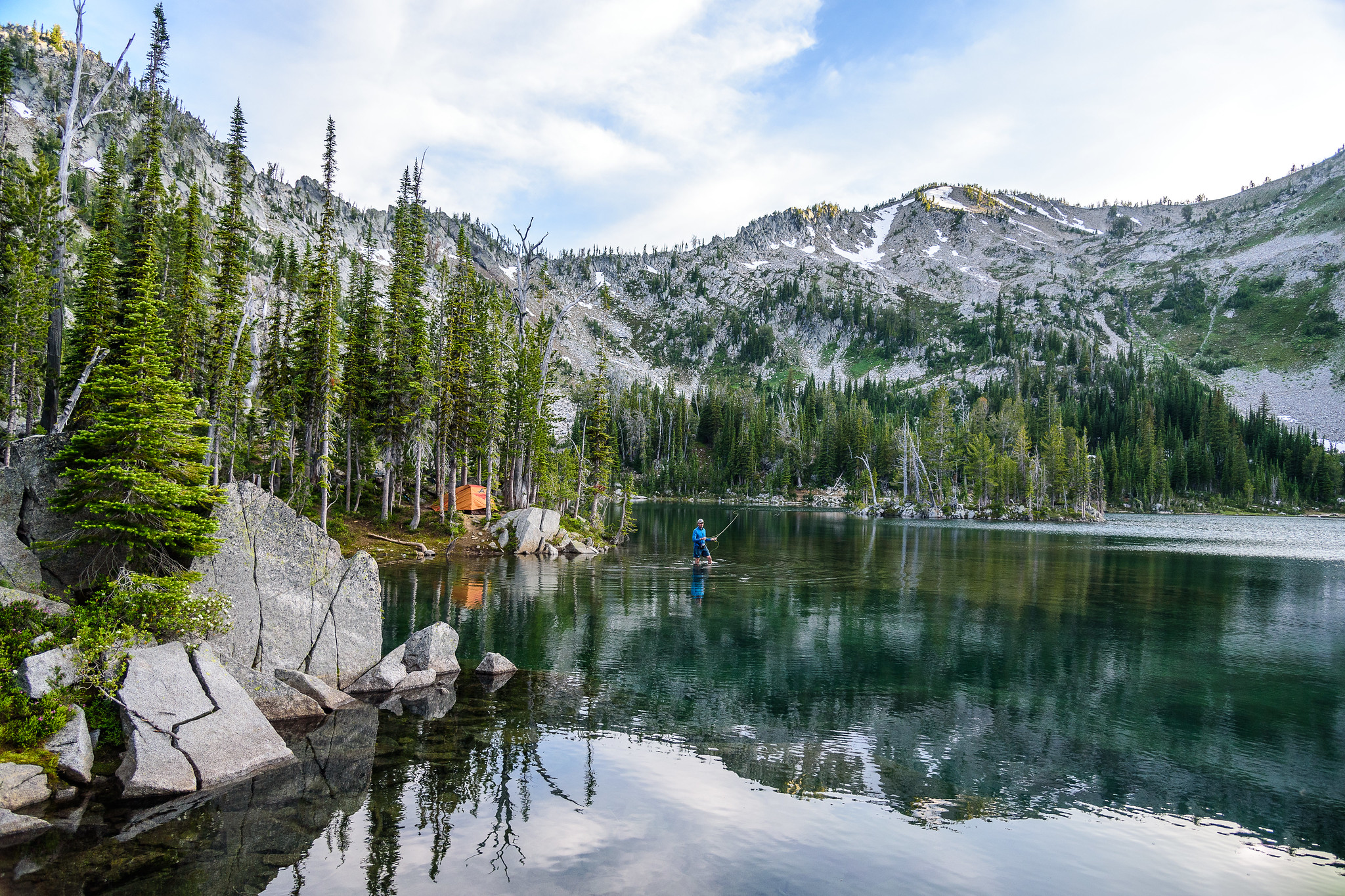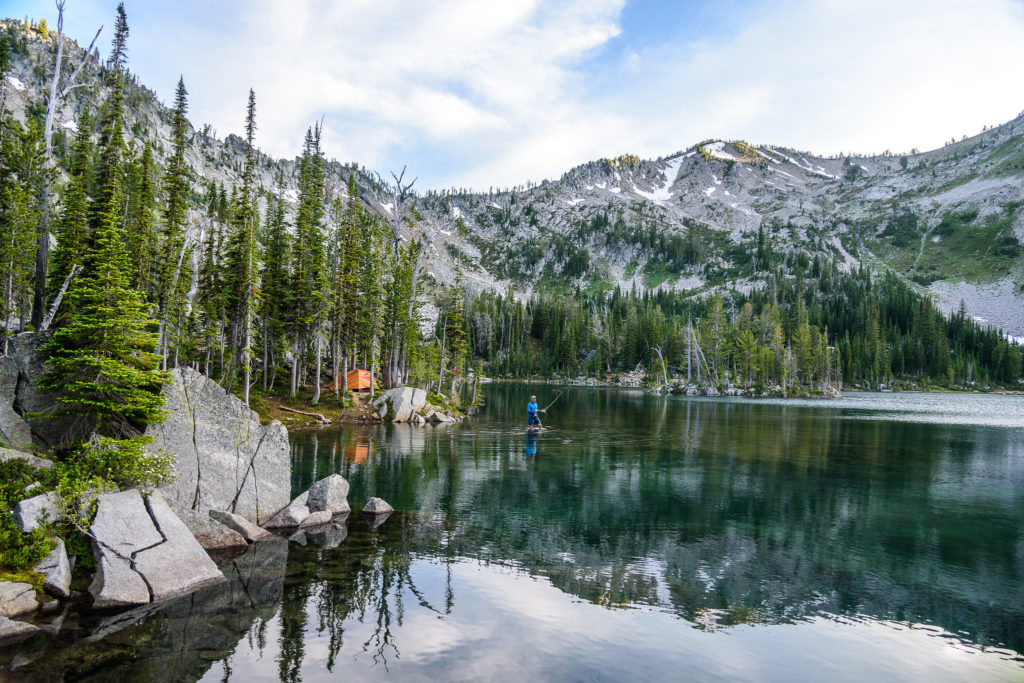 Northeast Oregon is another stunning and remote area of Oregon that many people neglect to visit when they think about exploring our beautiful state.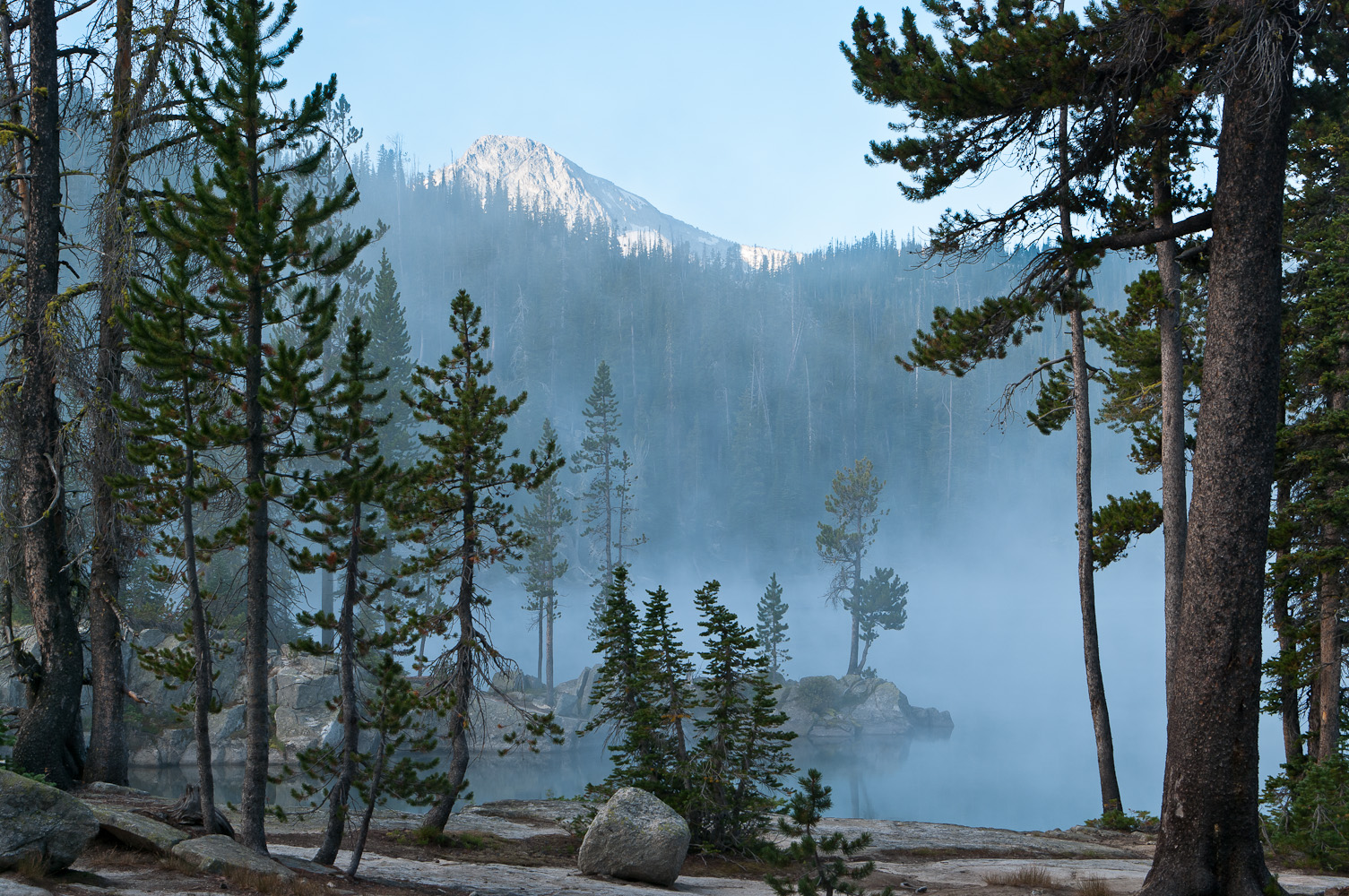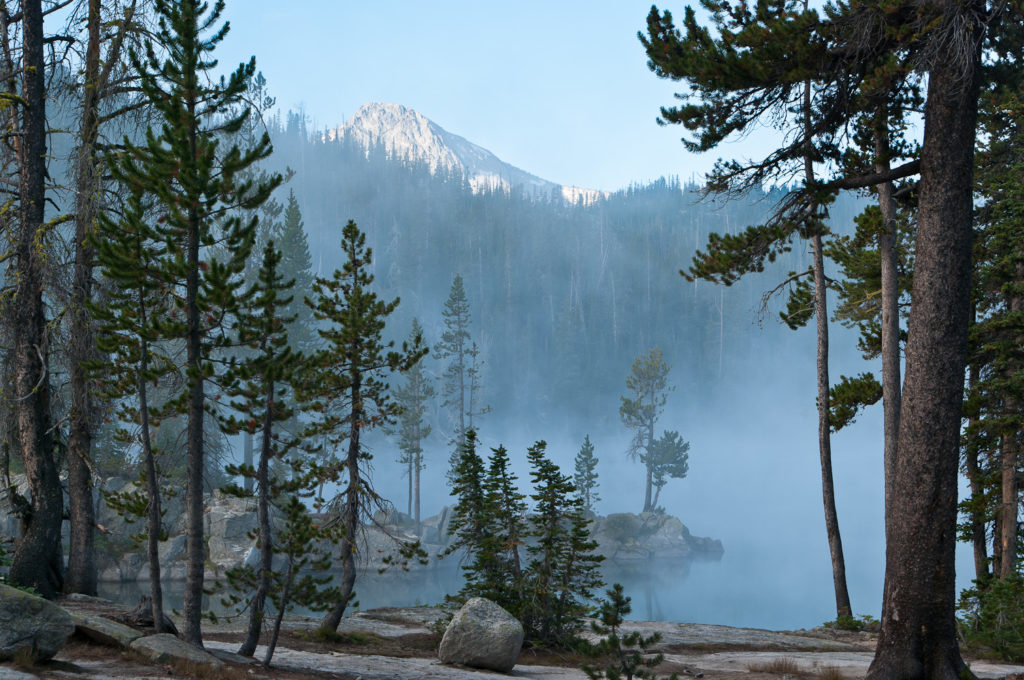 Northeast Oregon is home to Hell's Canyon, the deepest canyon in the US (yes, even deeper than the Grand Canyon), as well as ghost towns, stunning wilderness areas with pristine lakes, and some of the best backpacking in the state.  Check out our list of the 10 best spots to visit in Northeast Oregon here.
16. Take A Stroll Through Oregon's Gorgeous Giant Redwood Trees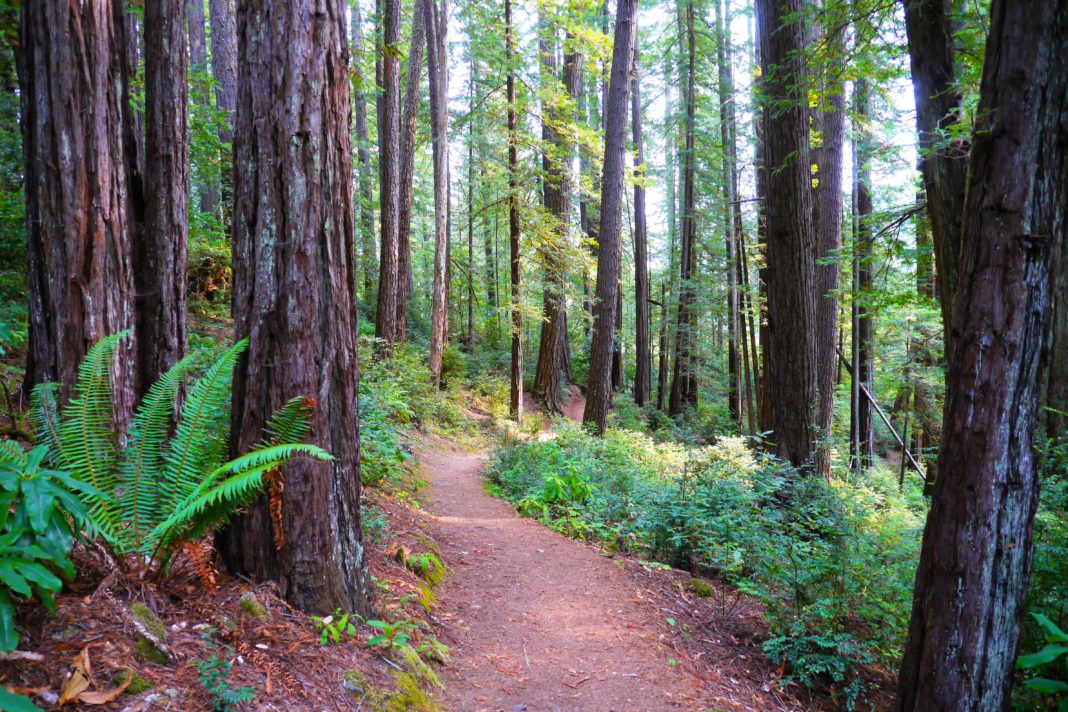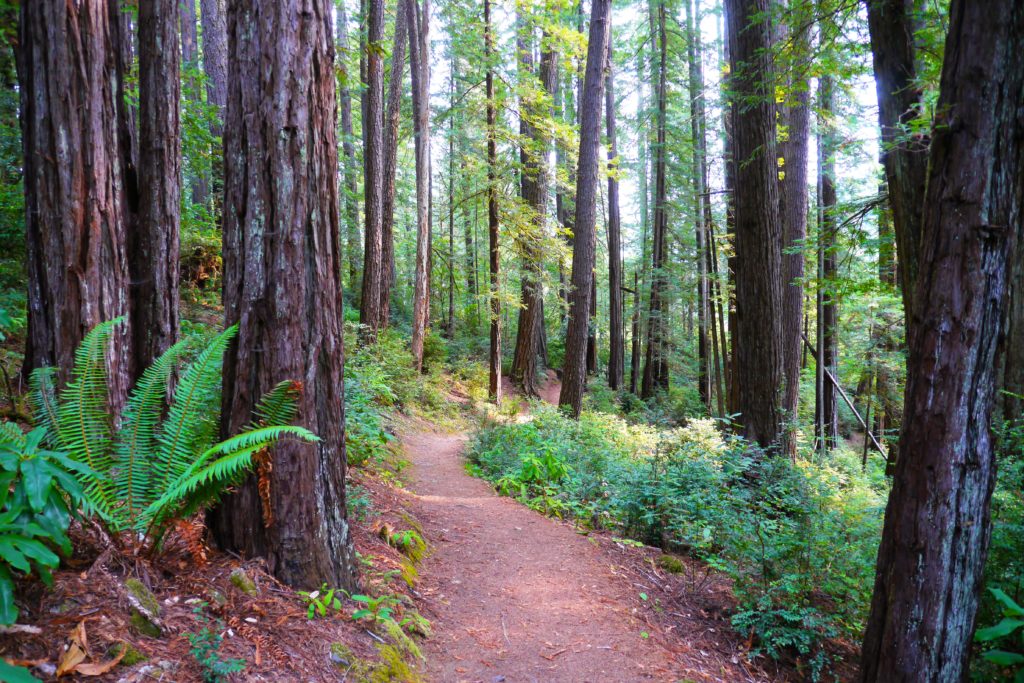 When people think of towering redwoods, they think of California.  You might not have realized that Oregon has it's own gorgeous redwoods trees along the southern Oregon coast.  You can check out these beautiful 800 year old redwood trees in Oregon here.
17. Experience Christmas In Oregon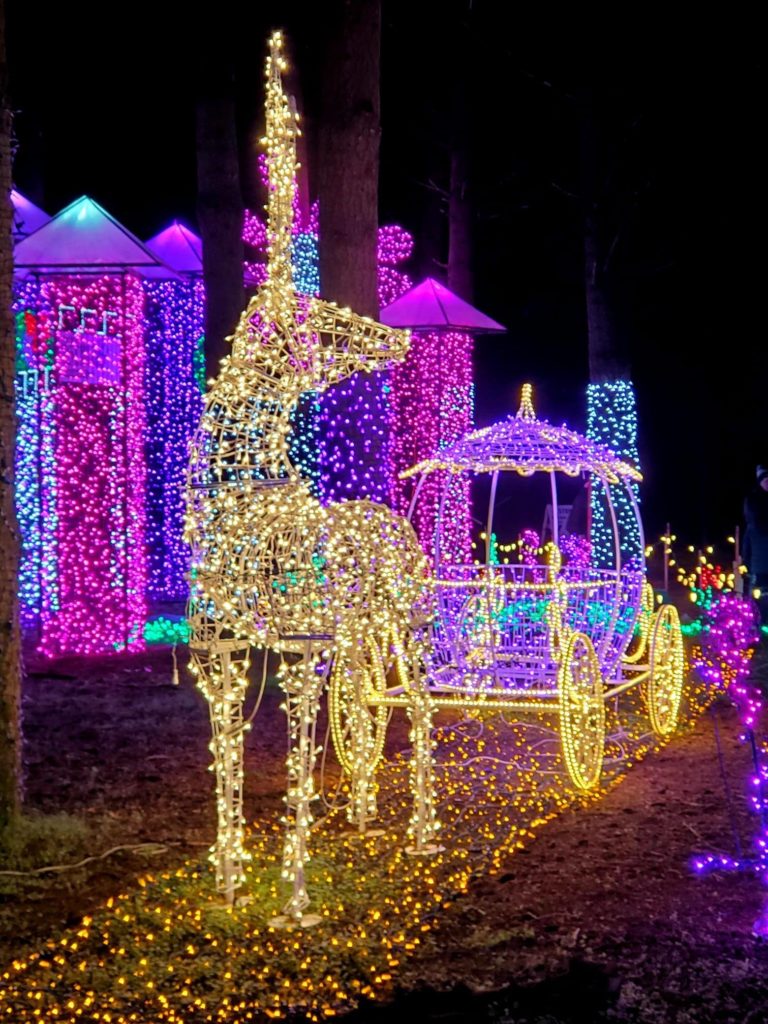 Oregon goes all out for Christmas.  Here are some of our favorite Christmas activities in Oregon.
Sleigh Rides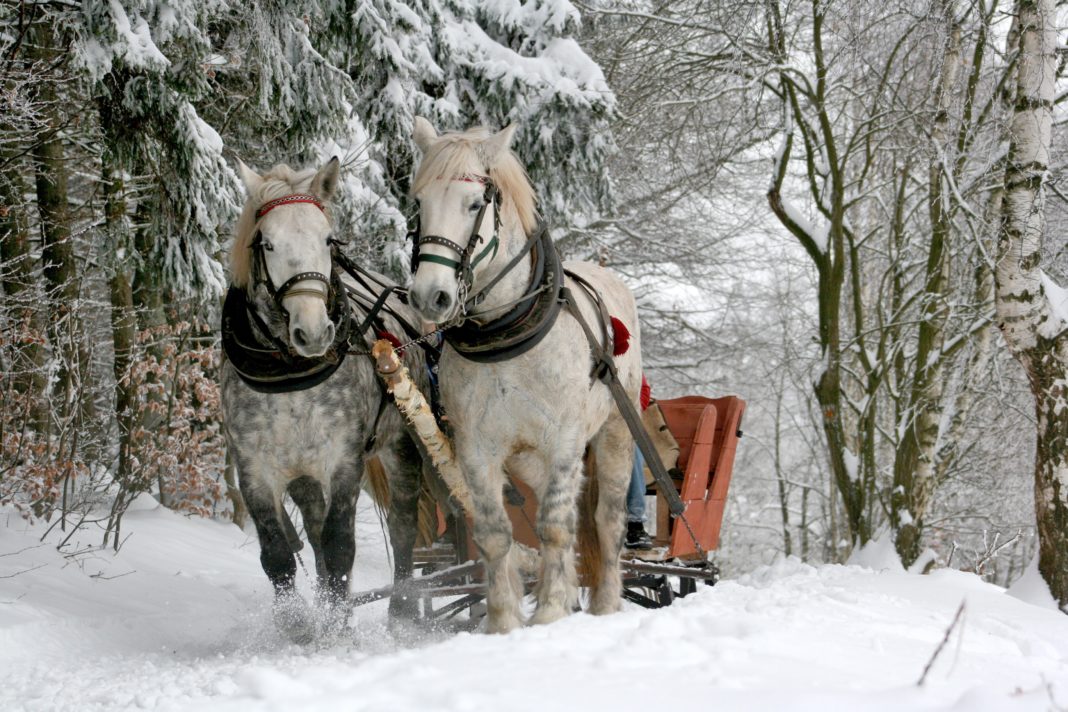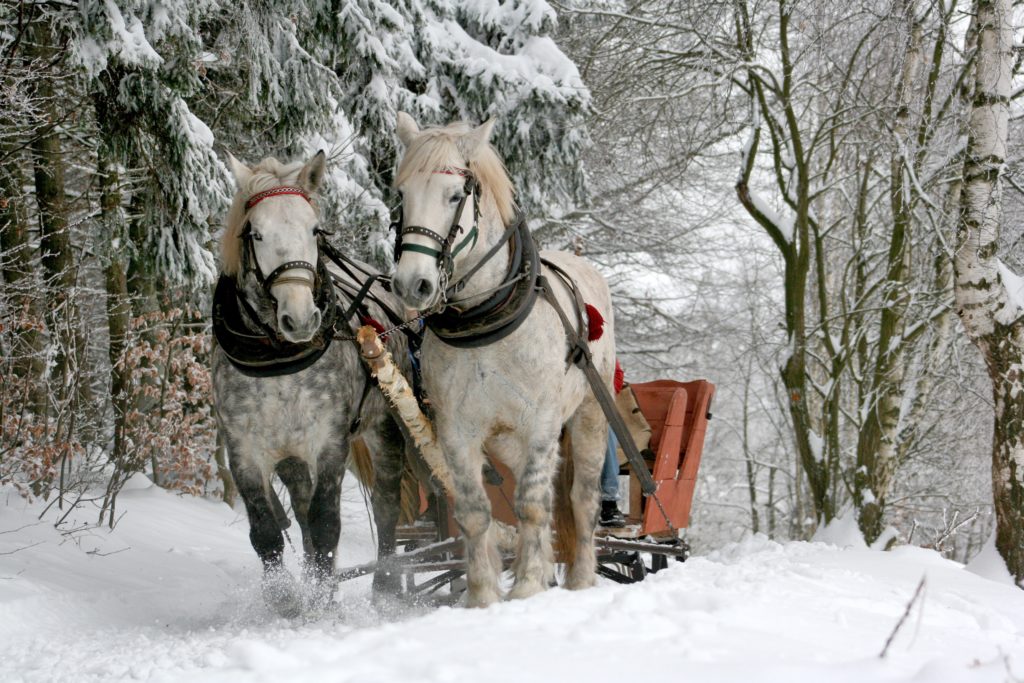 Take a sleigh ride at Odell Lake, or a sleigh ride on Mount Hood.
Christmas Light Events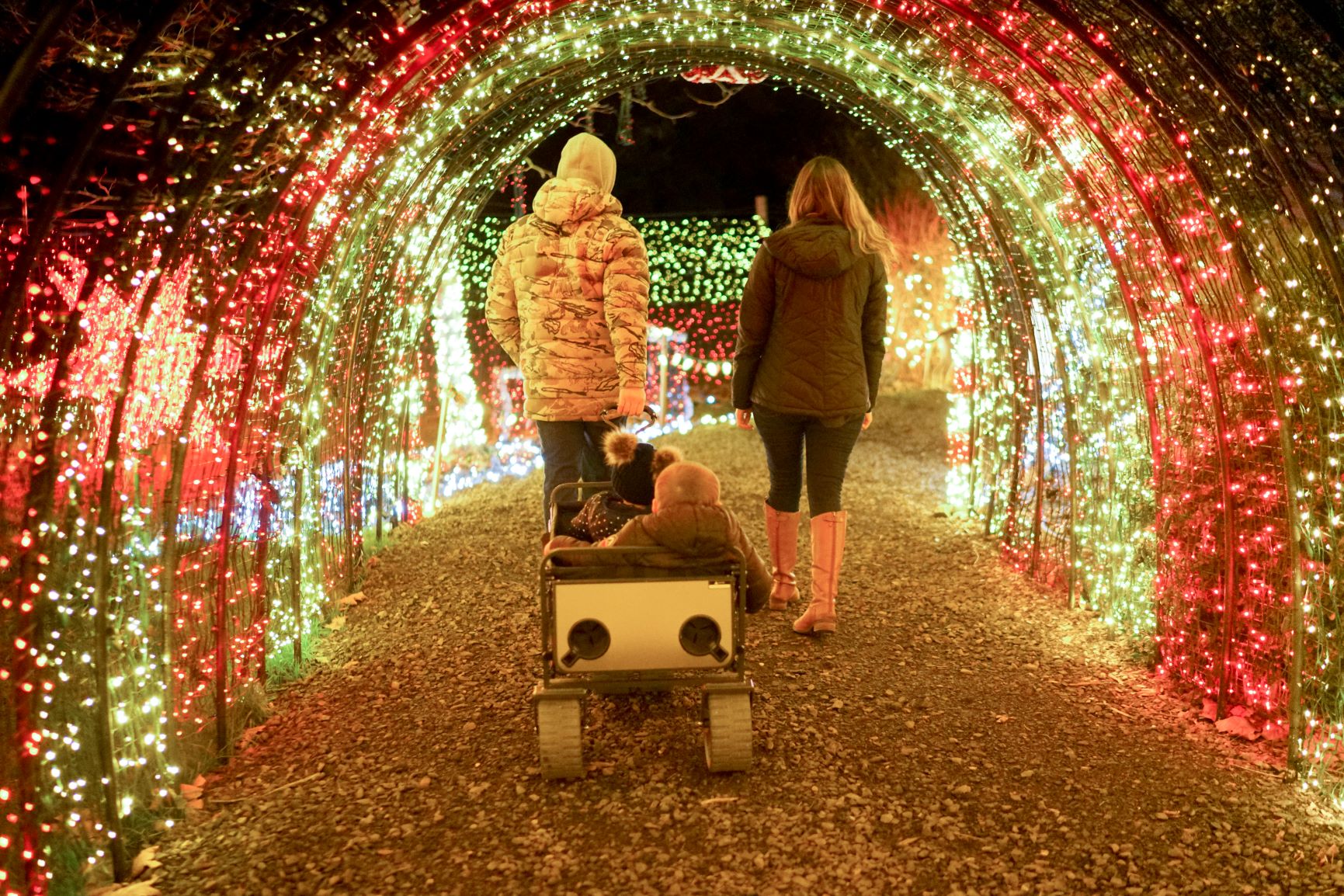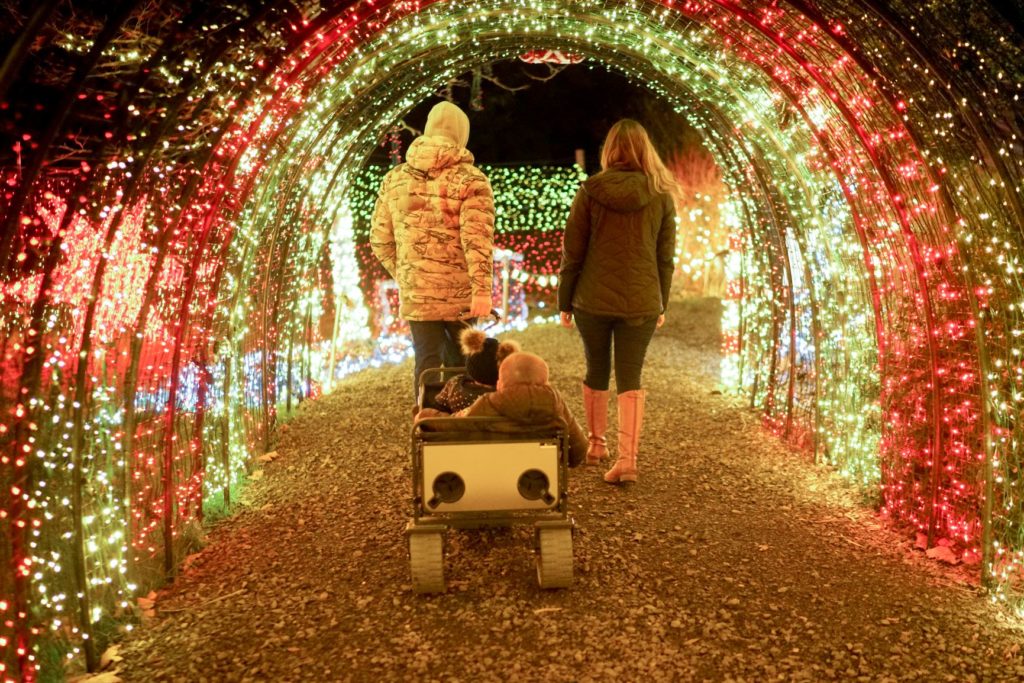 If you're looking for a great place to see Christmas lights, we highly recommend heading to the Silverton Christmas Market for millions of Christmas lights, good food, hot drinks, and family fun.  This is one of my favorite Christmas experiences.
Another place to see lights is at the yearly Oregon Zoo Lights event.  If you're in Portland you'll also want to watch the Christmas Ship Parade.
Holiday Train Rides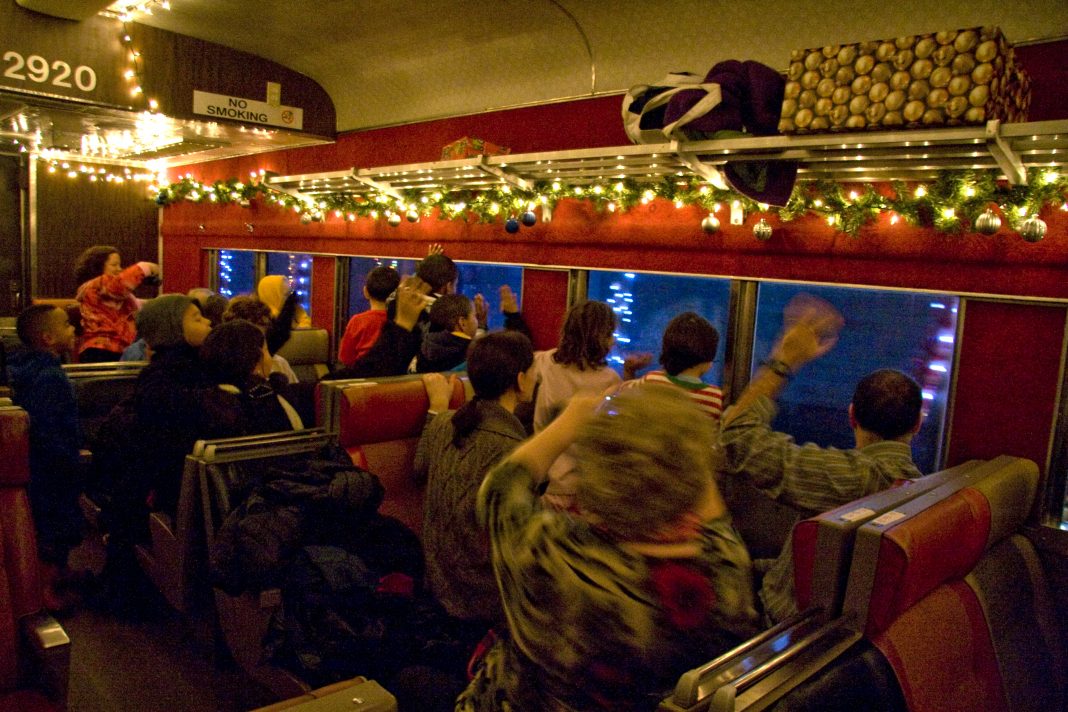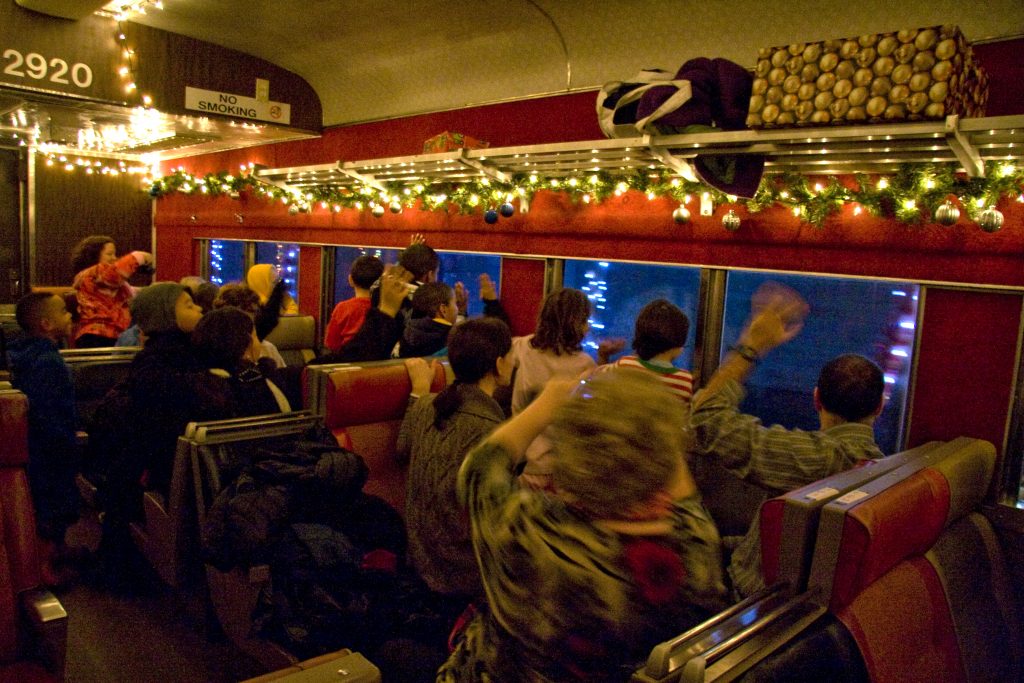 Many people wait all year to take one of these holiday train rides.  Many railroads across Oregon offer this unique Christmas experience every year.
Christmas Gift Shops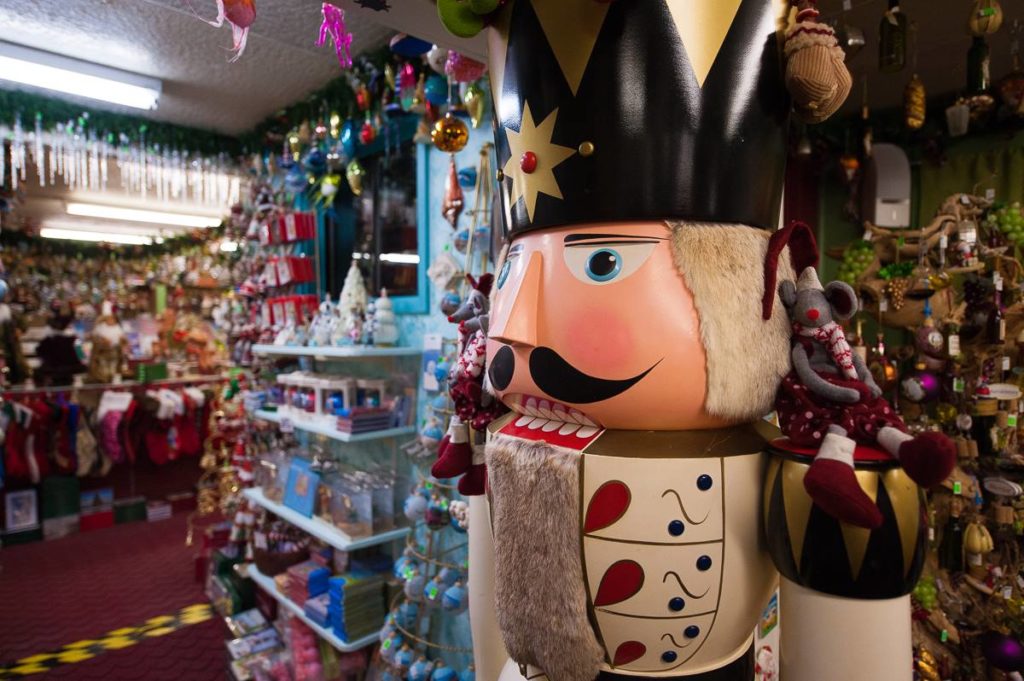 To get a little holiday shopping done, head to Sleighbells, a cute Christmas shop surrounded by a Christmas tree farm.  Or you could check out the Christmas Cottage, a unique Christmas shop on the Oregon coast that's open year round!
18. Zip Through The Trees Or Have A Tree To Tree Adventure
Crater Lake Zip Lines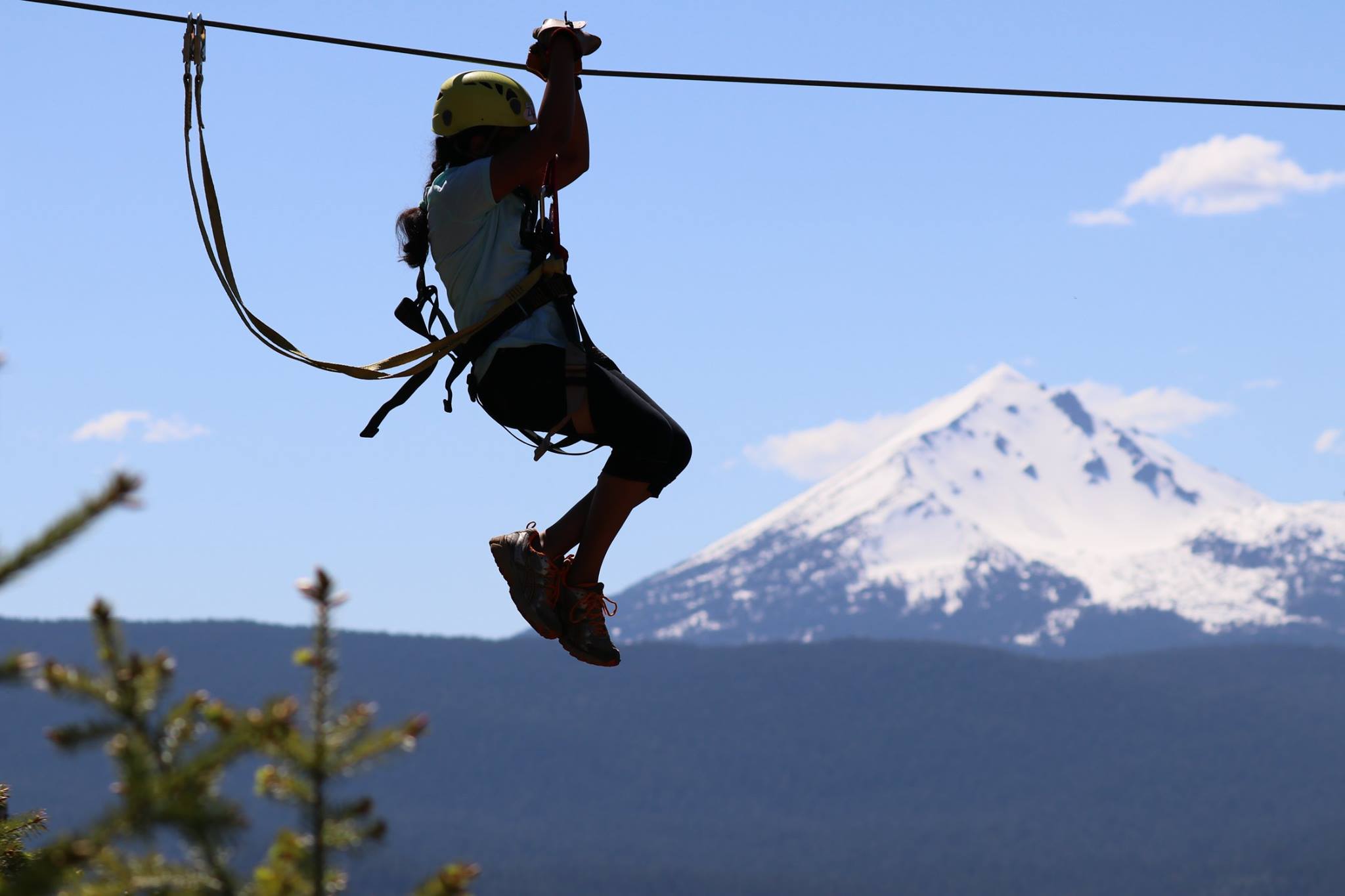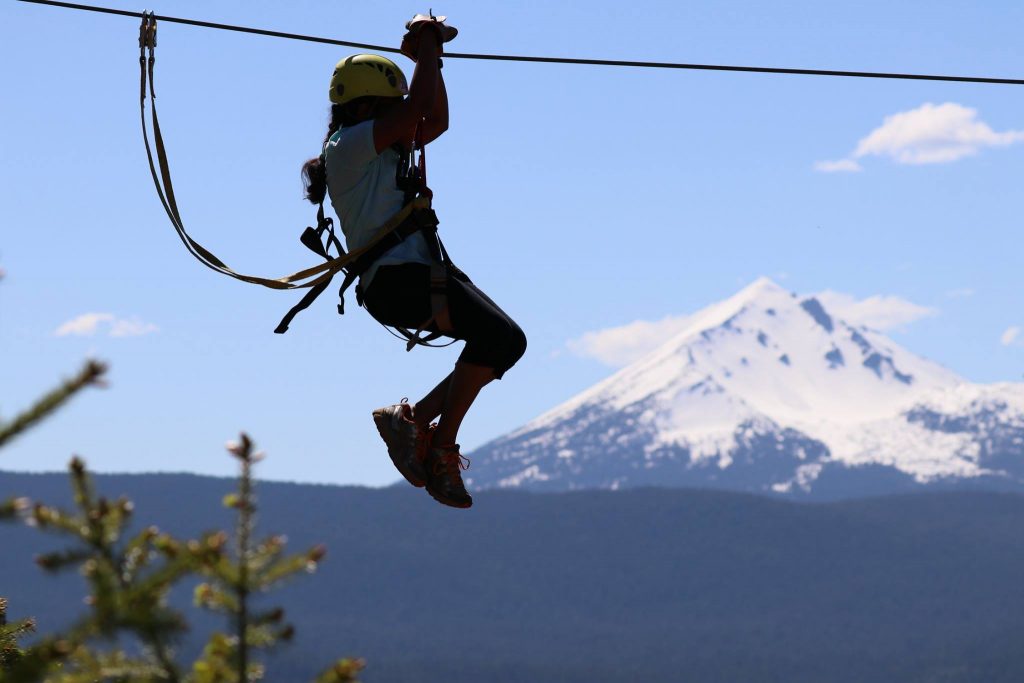 Crater Lake Zip Lines isn't actually at Crater Lake, but it's close.  This forested park offers a 2-4 hour zipline tour for those who love adventure, and a kid's zipline course for children who are just getting started on ziplines or who aren't yet old enough to go on a full zip line tour.
Salishan Aerial Park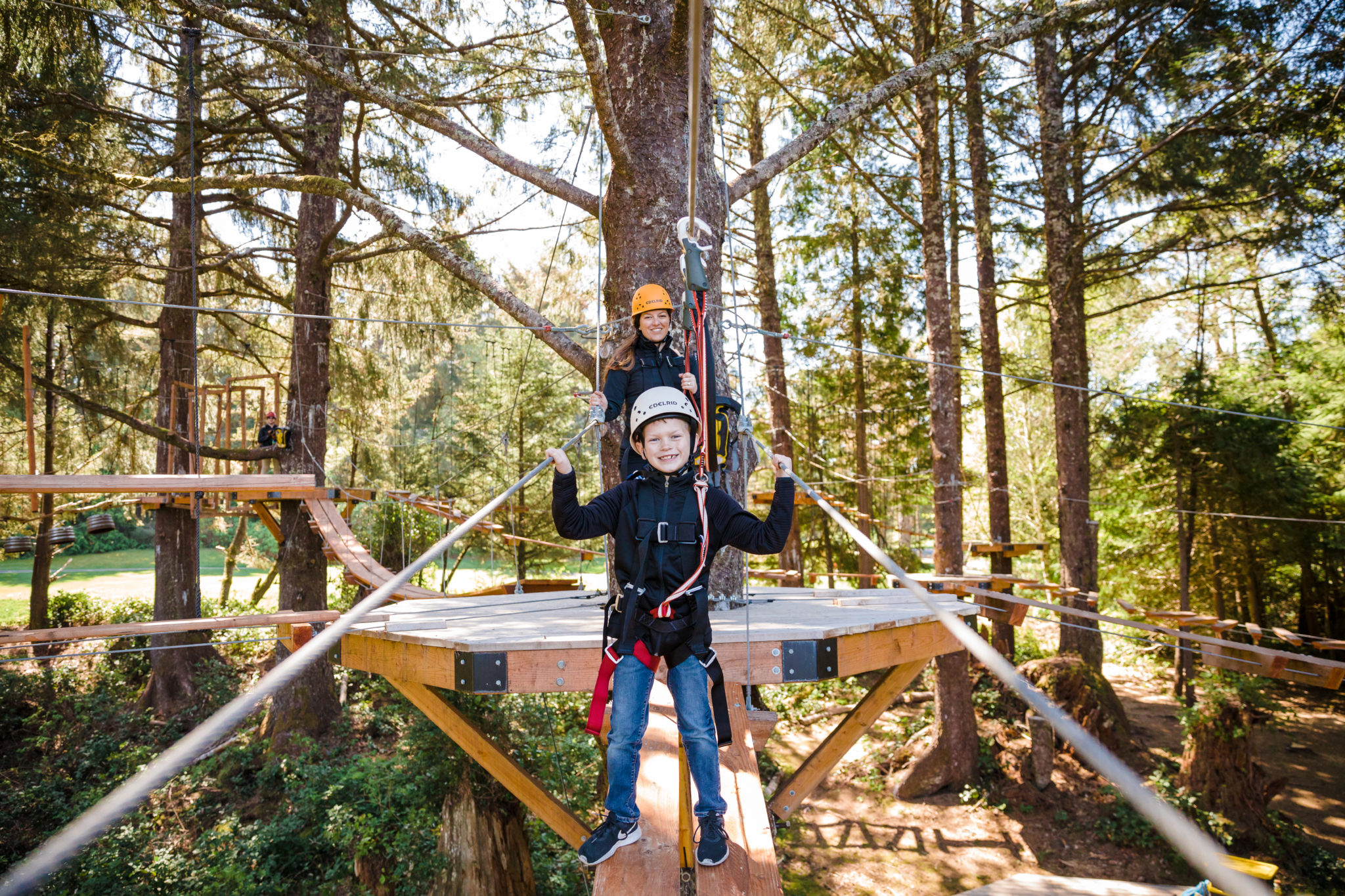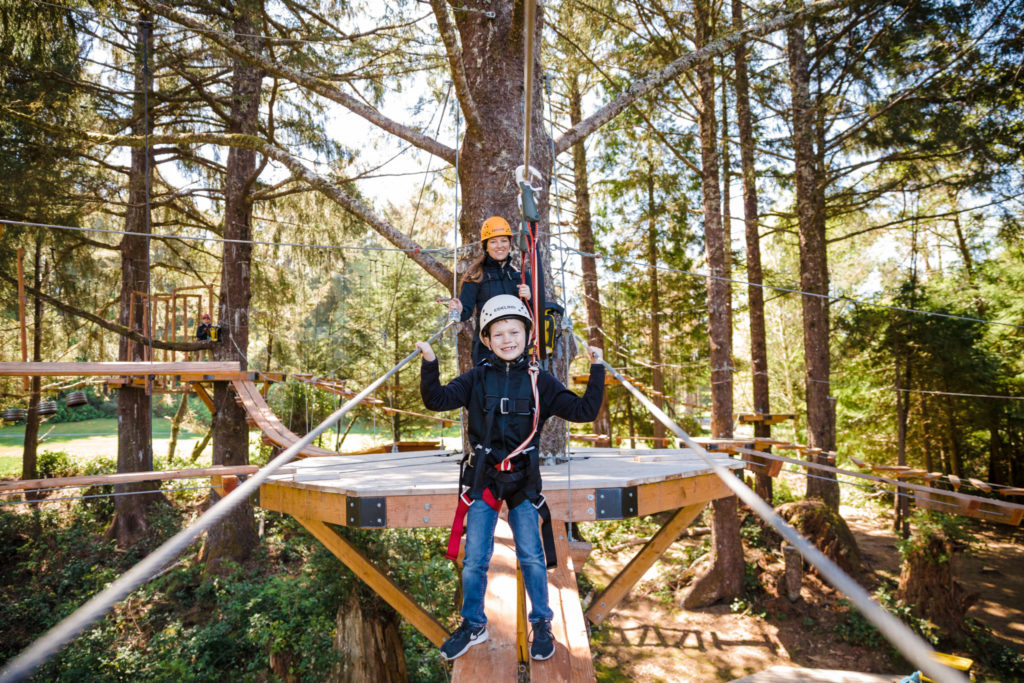 One of the many things we love to do at Salishan on the Oregon coast is the adventure park, which gets families and friends off the ground and into the trees for an at-your-own-pace adventure.
Rogue Valley Zipline Adventure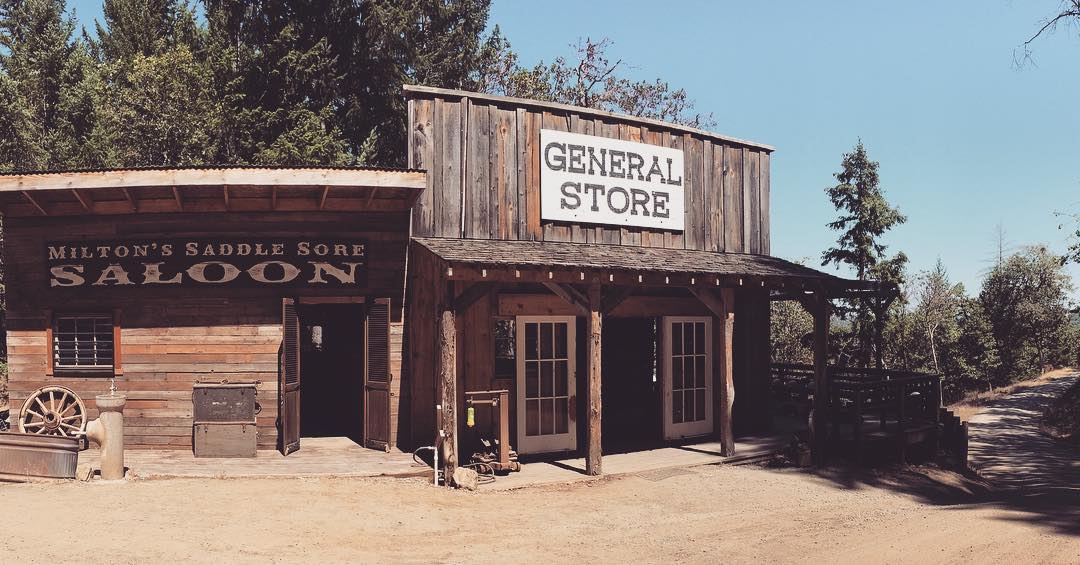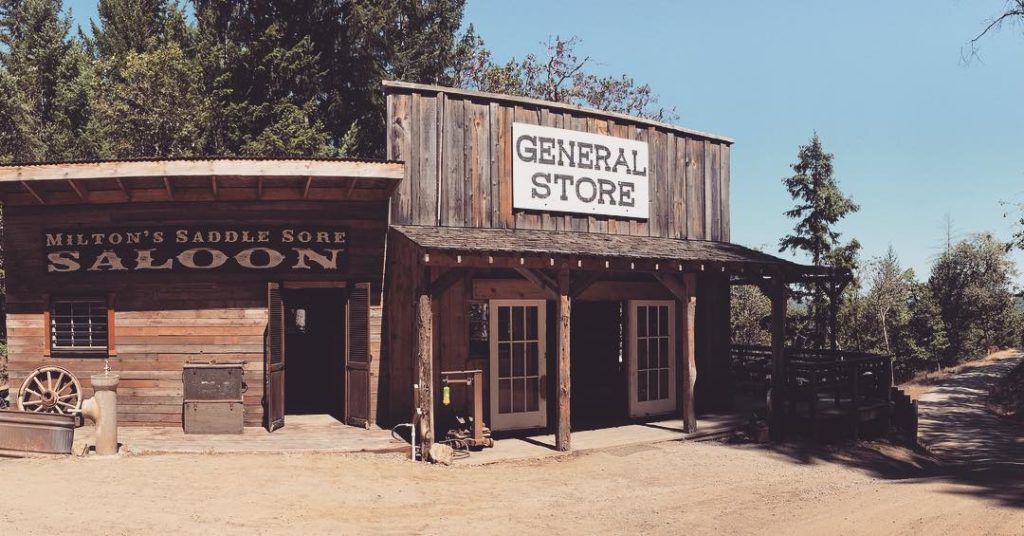 One of the things that makes Rogue Valley Ziplines different from others in Oregon is the replica gold mining town where you start your adventure.  From there you'll head out on a three hour zipline tour in this gorgeous setting.
Tree To Tree Adventure Park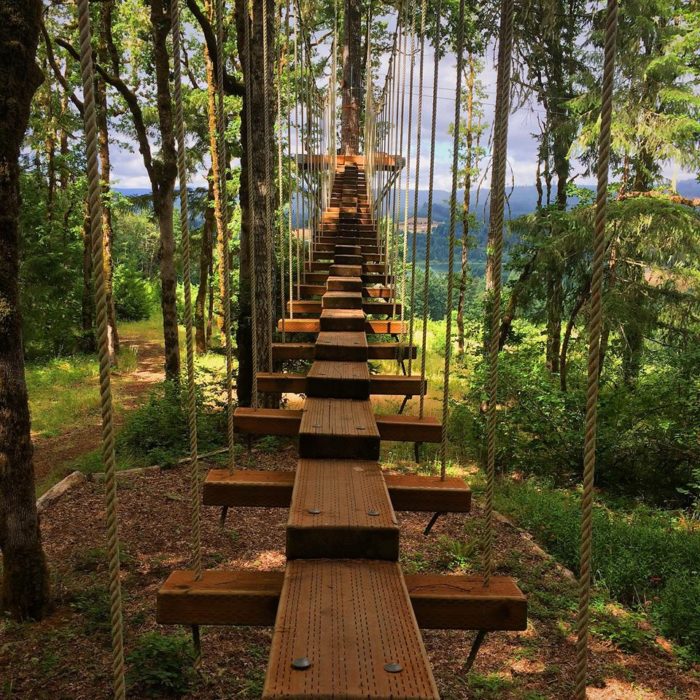 Tree To Tree Adventure Park is focused on giving people an awesome aerial park experience.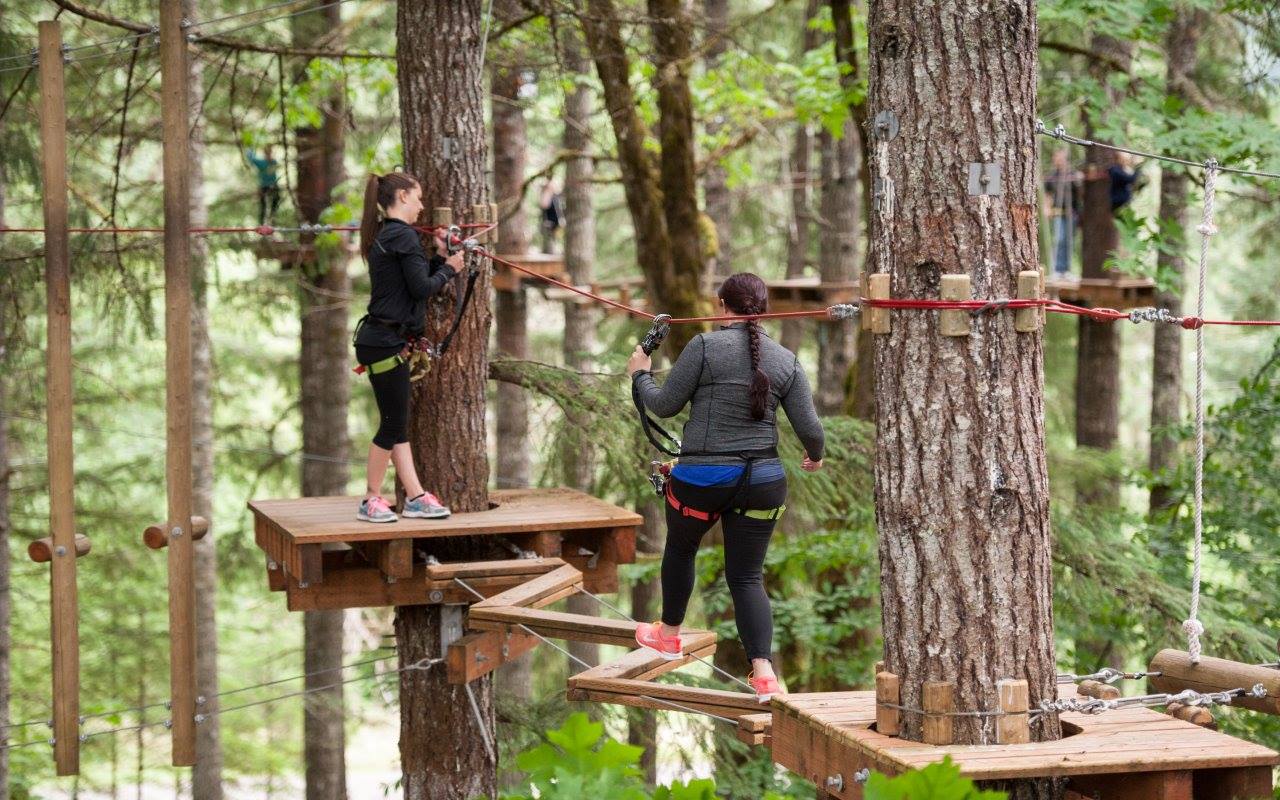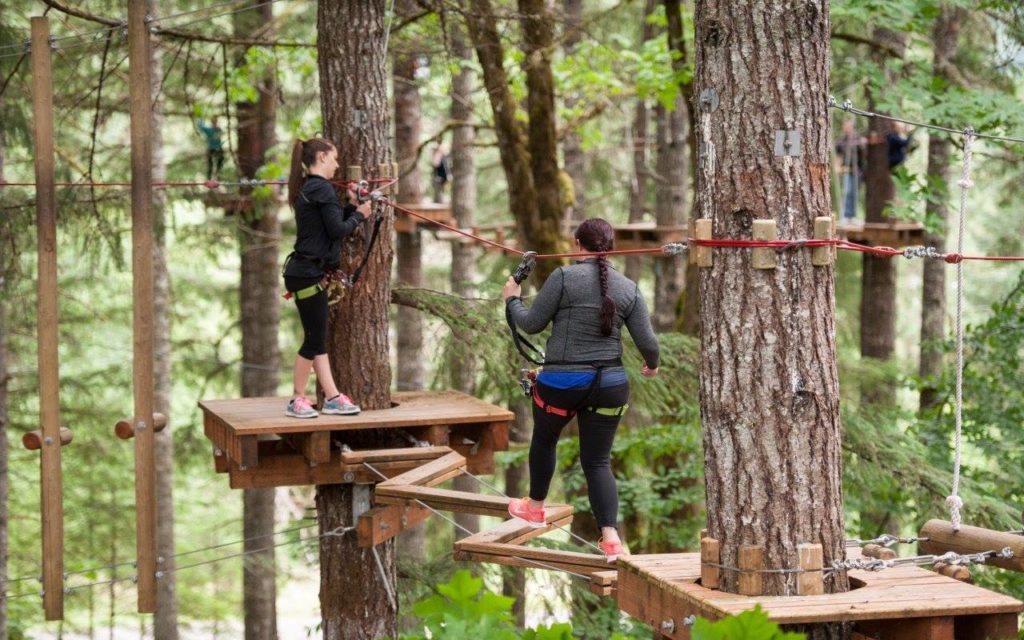 While they do have a zip line tour, one of our favorite things about Tree To Tree is the aerial course.
19. Spend The Night In A One Of A Kind Treehouse Resort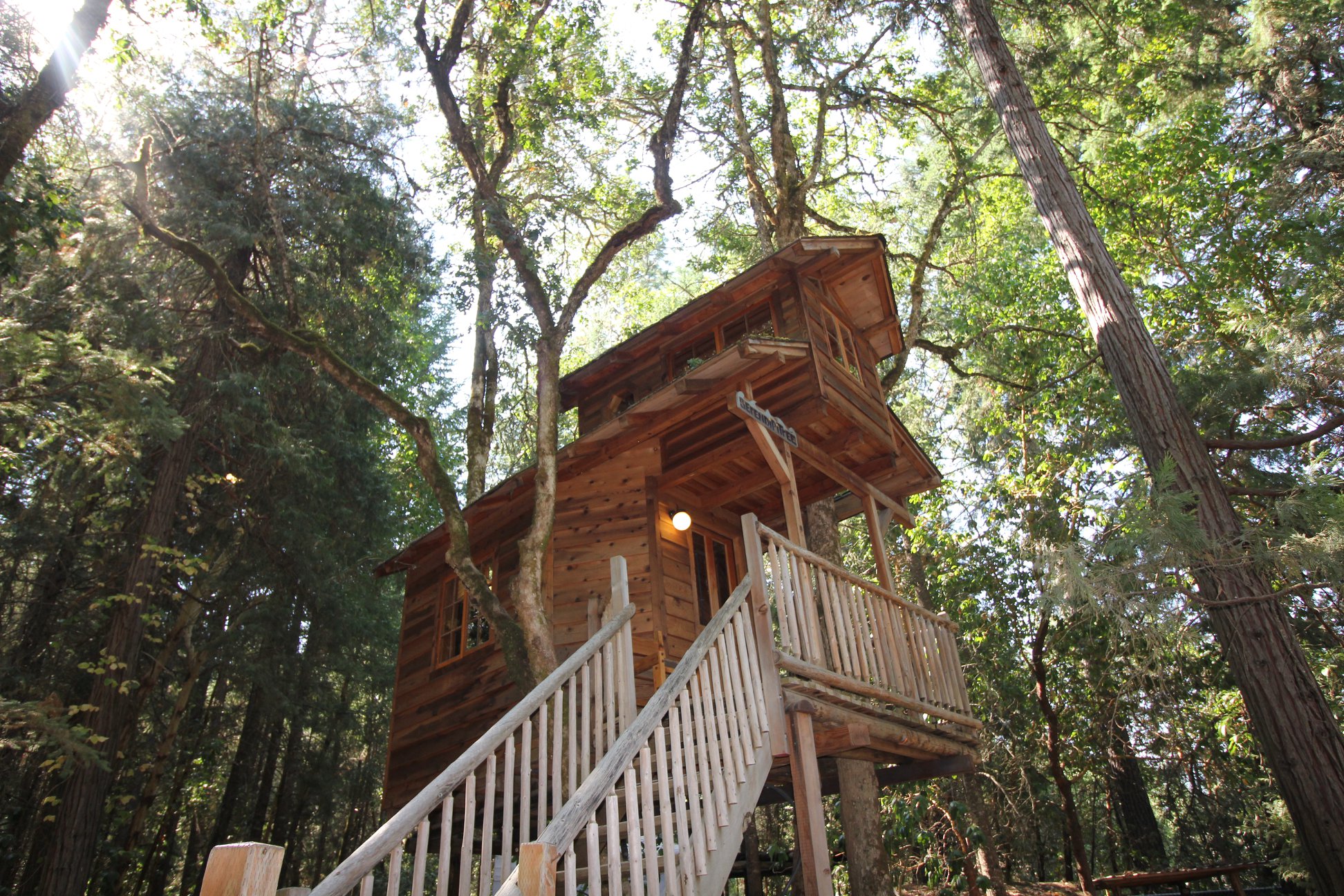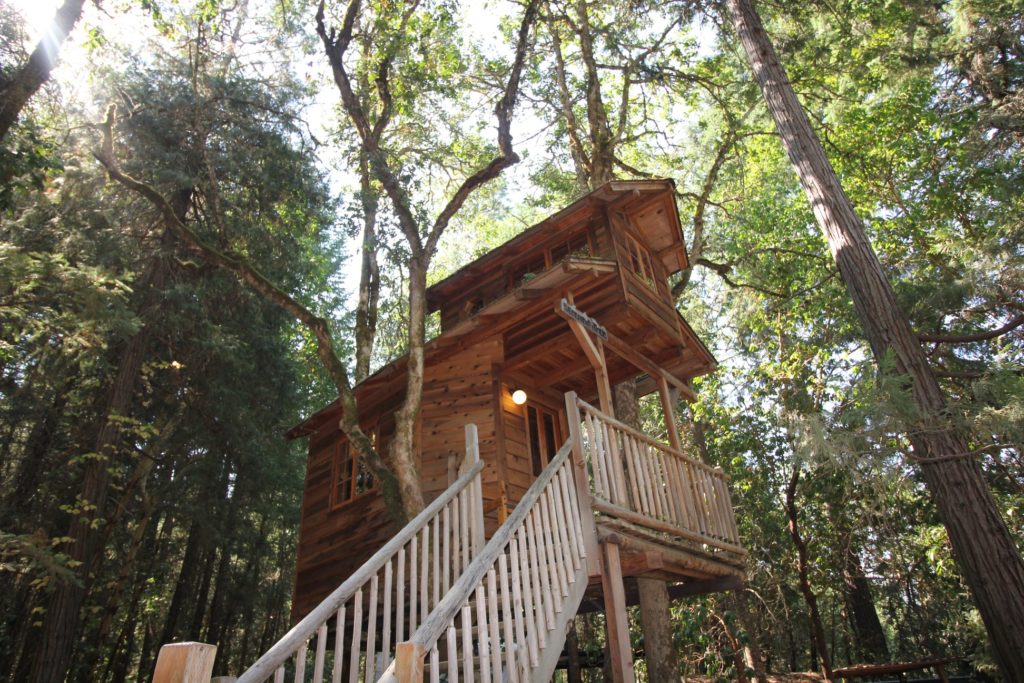 Because so much of Oregon is forested, trees are on our mind a lot.  One of the more unique places you can stay in Oregon is at a one of a kind tree resort.  Out'N'About Treesort will bring out your inner child as you choose a treehouse to call your very own for a night.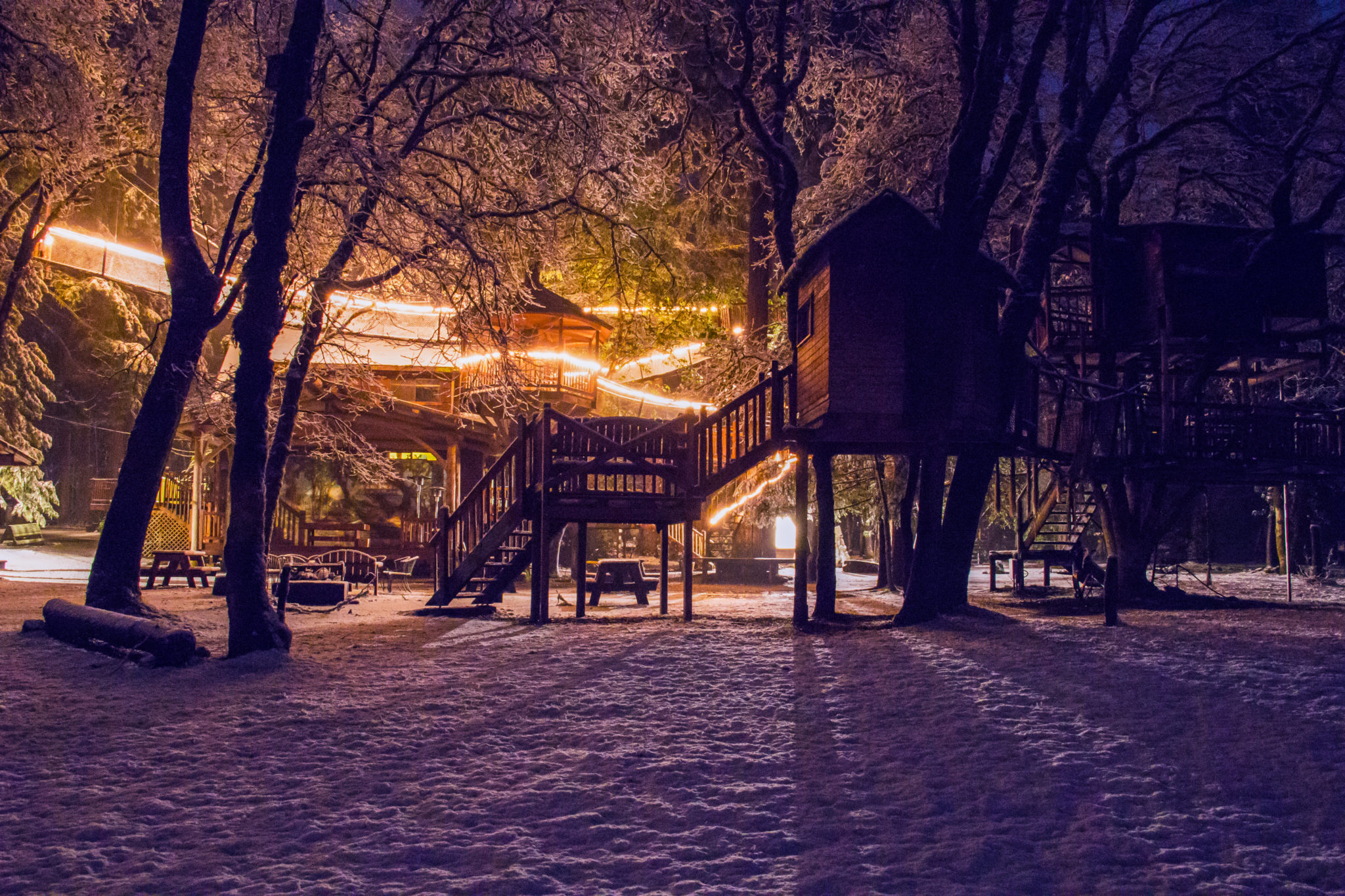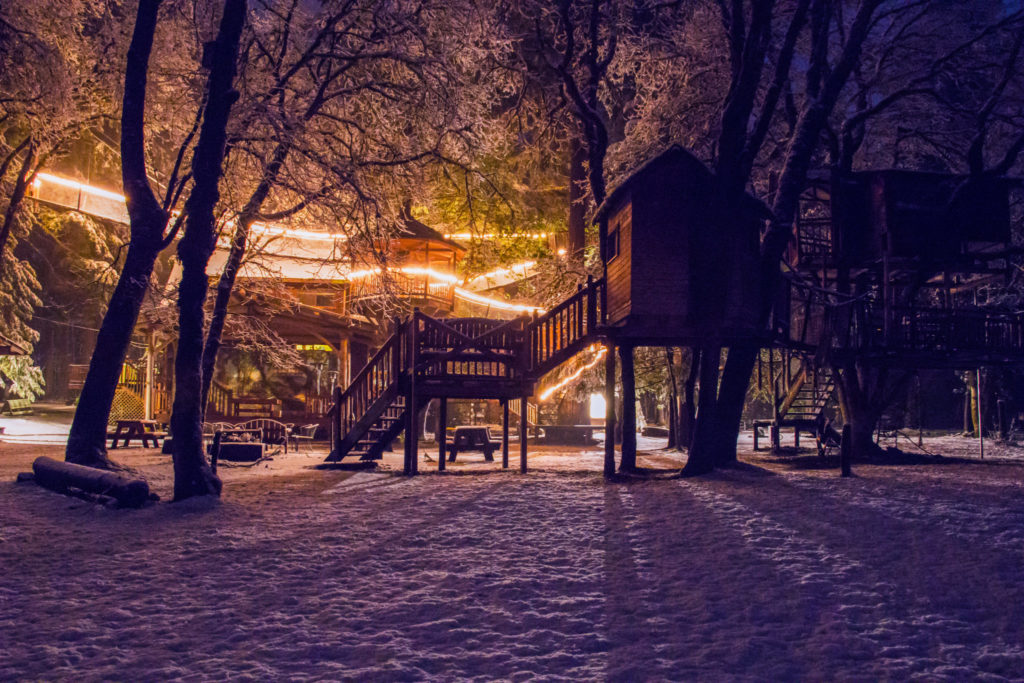 These aren't your average treehouses.  Some are close to the ground, and others are 47 feet up in the air, like the Magistree, a masterpiece accessed via stairs and two suspension bridges.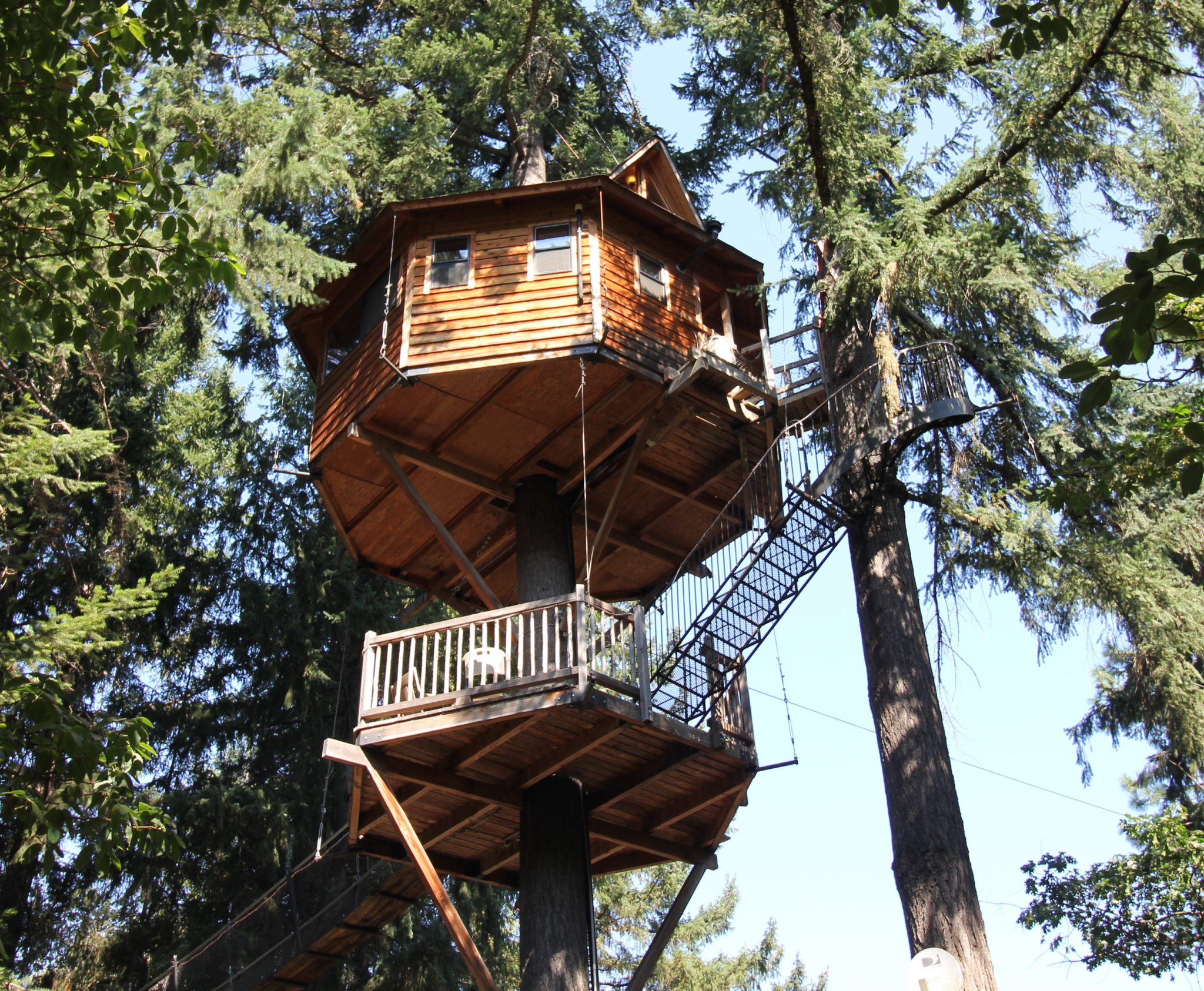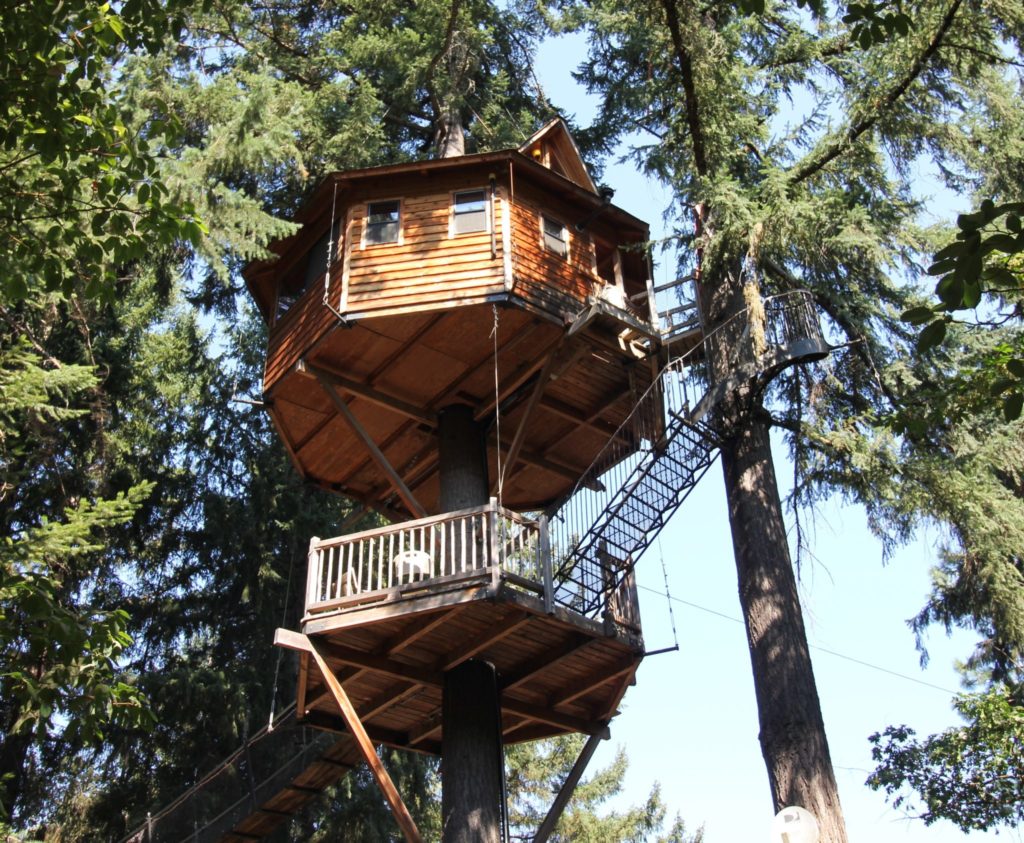 This is an awesome place to spend a weekend with kids, or as a romantic getaway.
20. Spend A Week In Oregon's Premier Vacation Town In The Cascade Mountains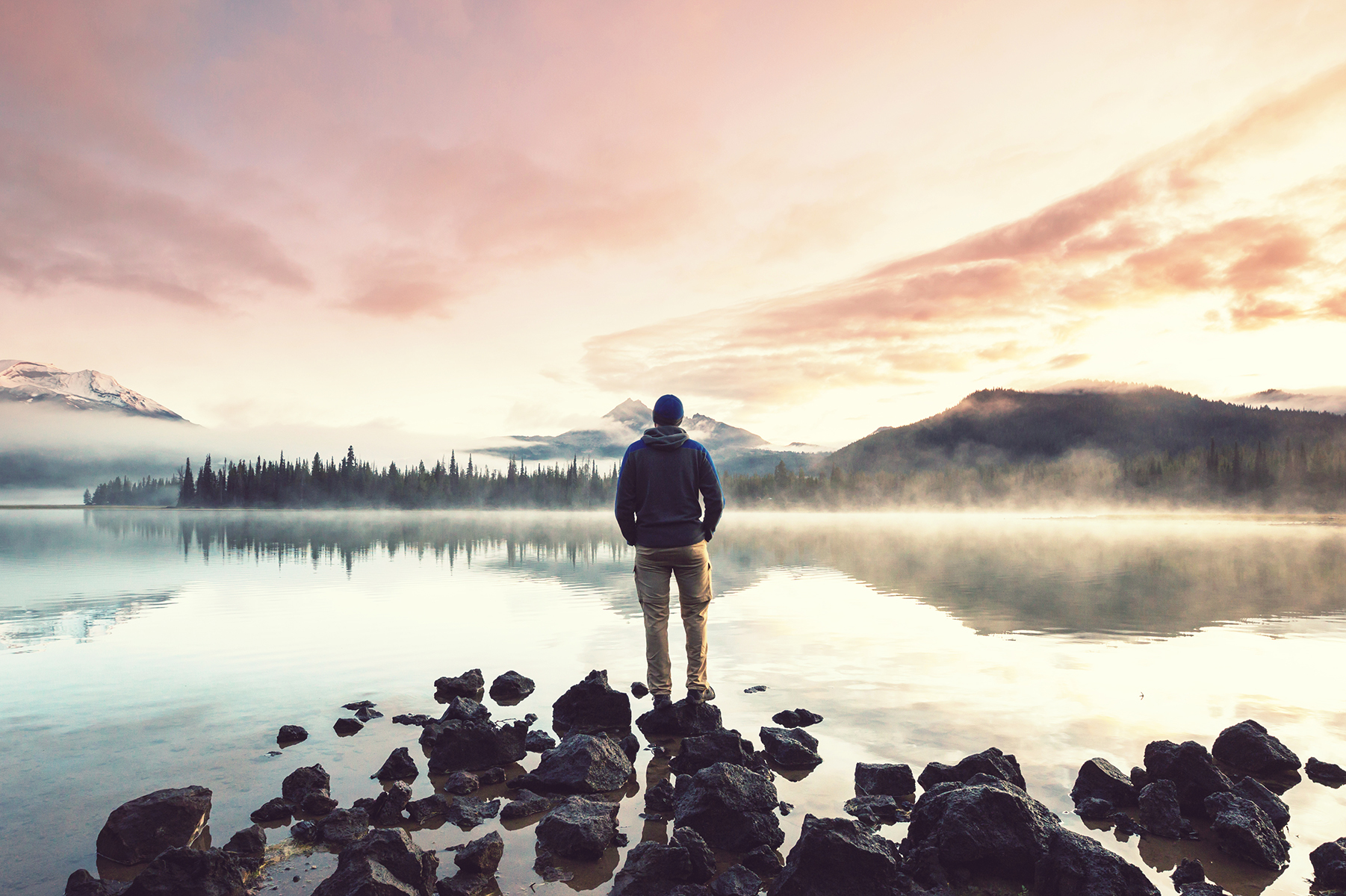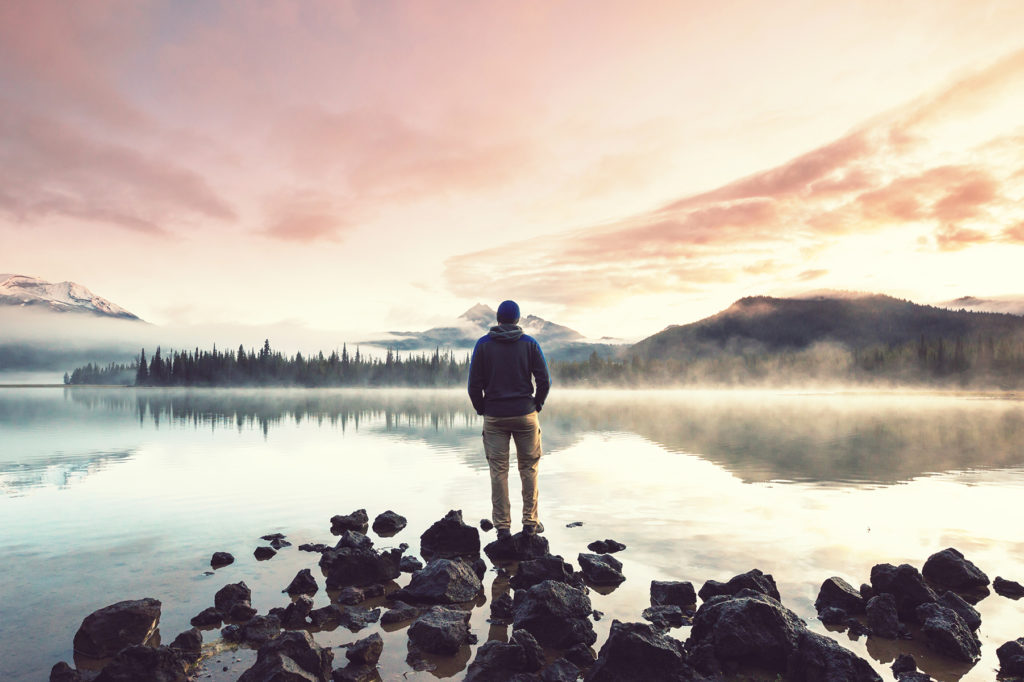 Sunriver is the perfect basecamp for an adventure in the Cascades or high desert of Eastern Oregon.  In the summer activities include hundreds of miles of hiking and biking trails, mountain lakes to explore, and horseback riding.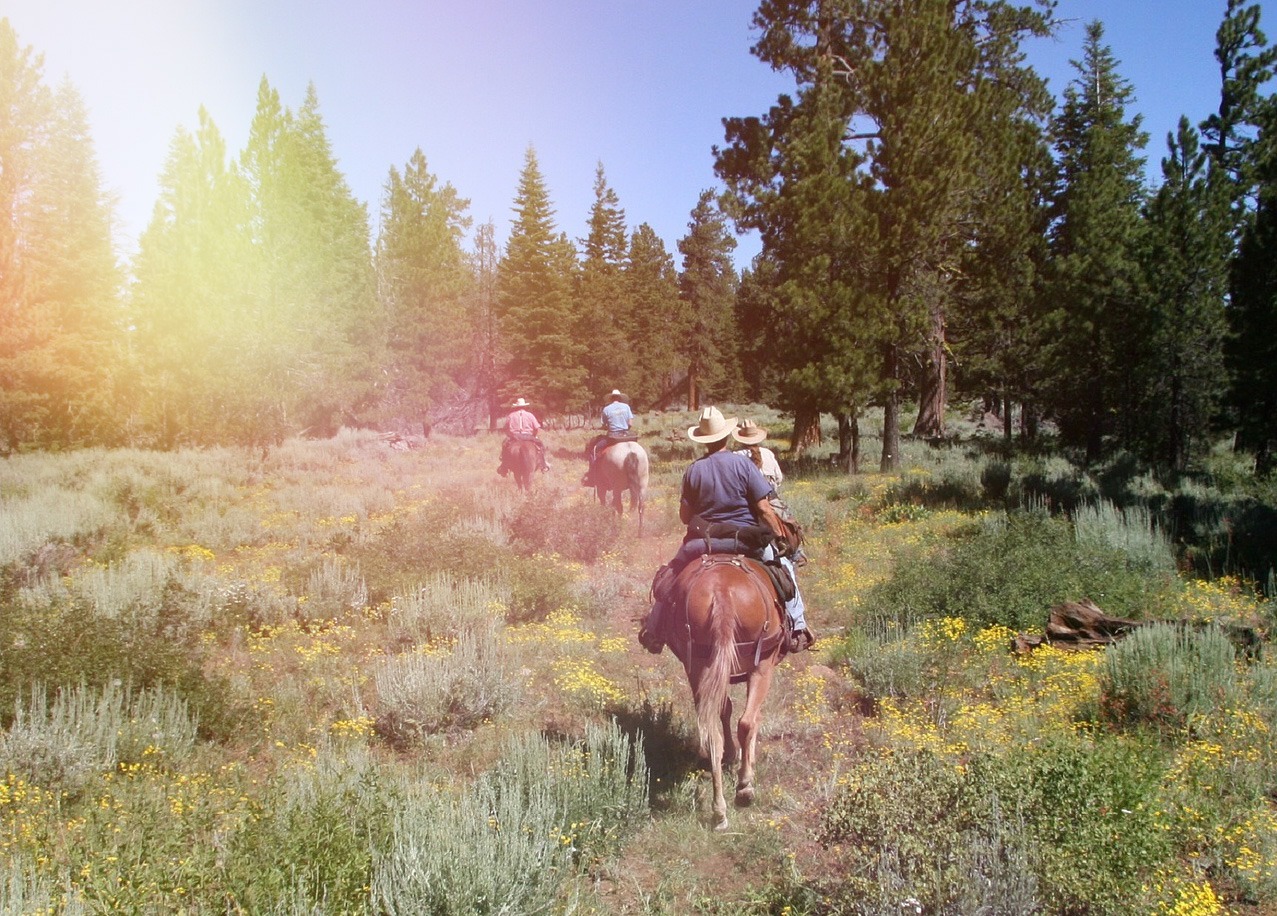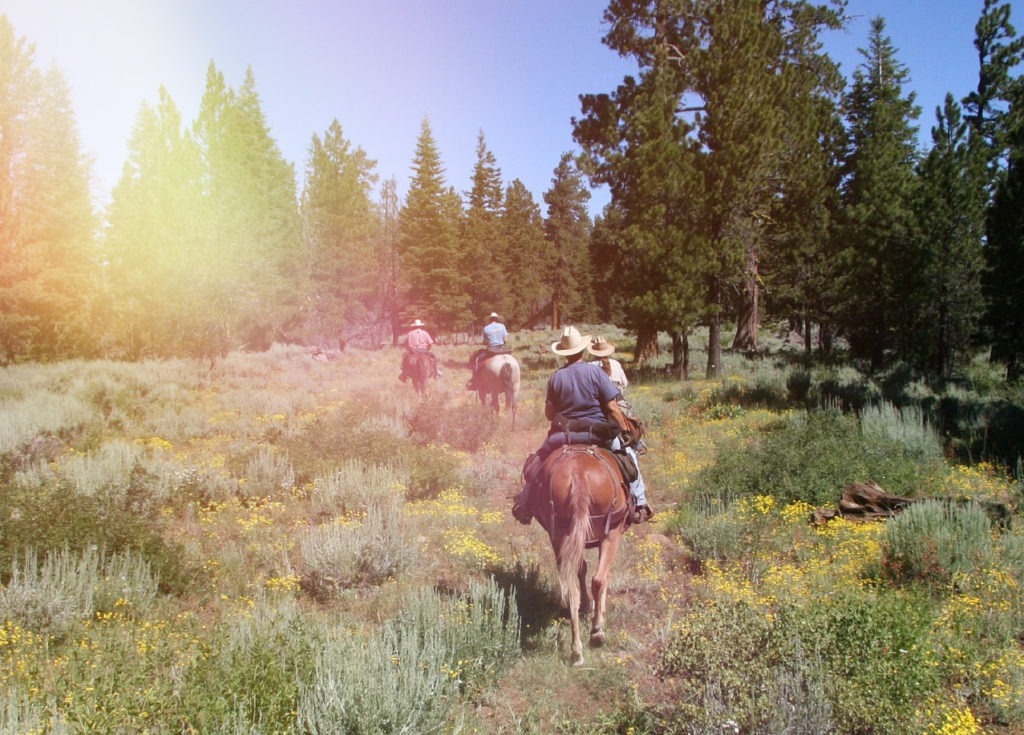 In the winter Sunriver serves as the primary location people stay when skiing and snowboarding on Mount Bachelor, one of Oregon's best mountains for snow sports.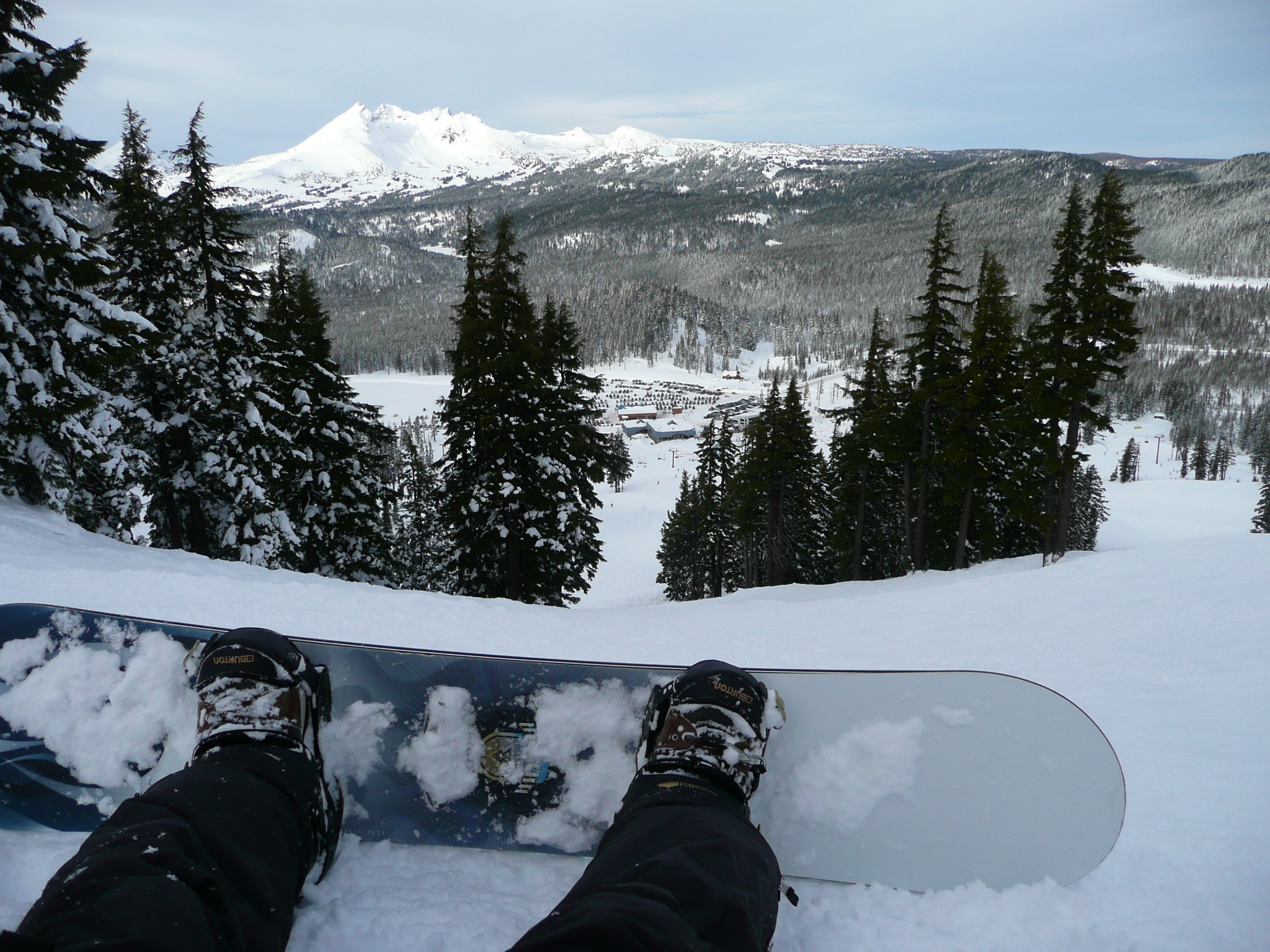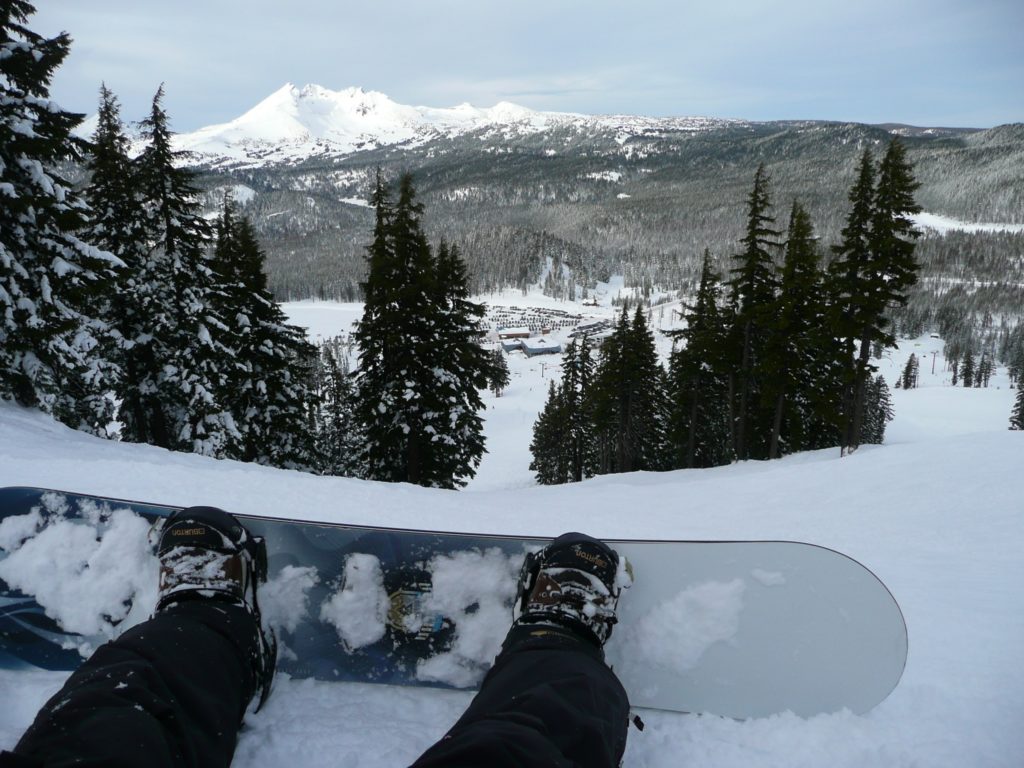 The town of Sunriver also has many delicious restaurants, a waterpark, hundreds of gorgeous cabins to rent, shopping, and other things to do.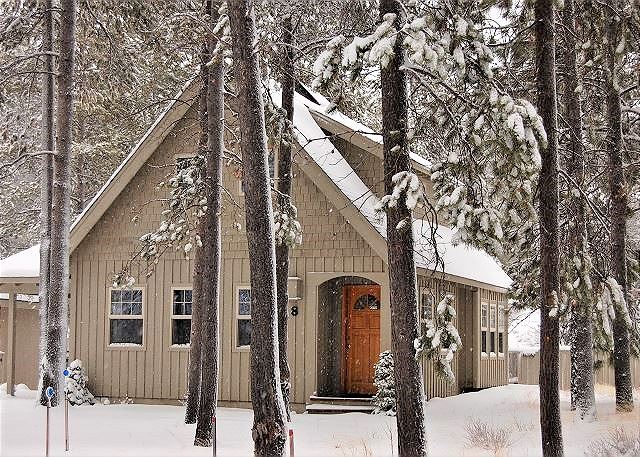 Check out our blueprint to the perfect Sunriver Oregon getaway here.
21. Soak In One Of Oregon's Amazing Hot Springs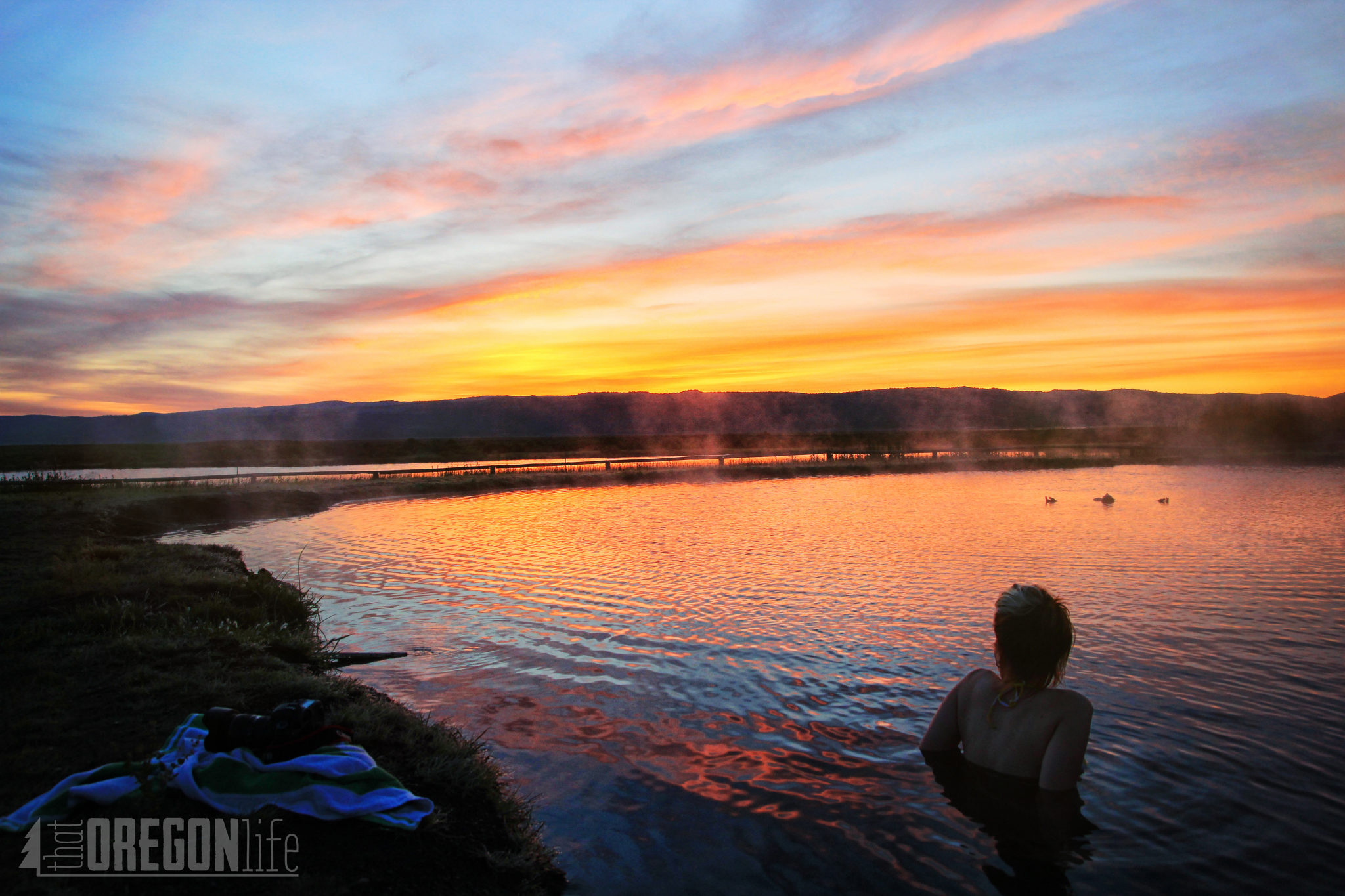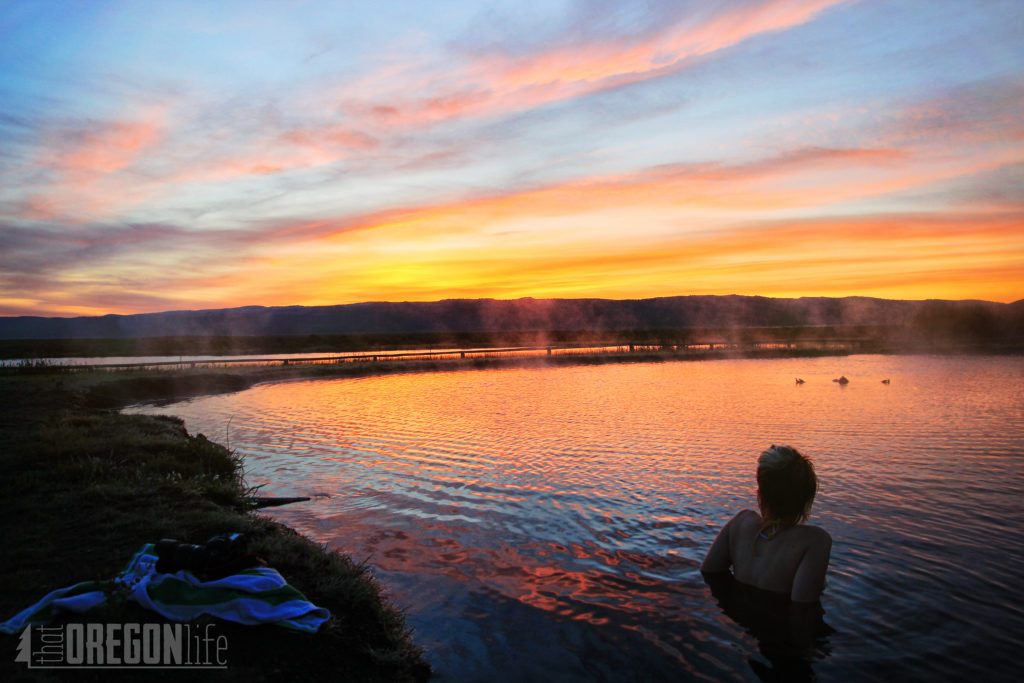 We're kind of obsessed with hot springs in Oregon.  Some of Oregon's hot springs are holes dug into the banks of a river where hot water pools, and others are locations where people have built tubs to pipe the naturally hot spring water into.  Whether you'd rather sit and relax with friends, or go completely naked, Oregon has the perfect hot spring for you.
 

View this post on Instagram

 
Here's a list of all 46 known hot springs in Oregon you can soak in.  Of special note are Crystal Crane Hot Springs.  You'll also want to check out Belknap Hot Springs resort, and the historic (and possibly haunted) Hot Lake Hotel.
Oregon even has some hot springs that are too hot for people to get into, so be sure to do your research before touching water at natural hot springs.
22. Explore Oregon's Many Caves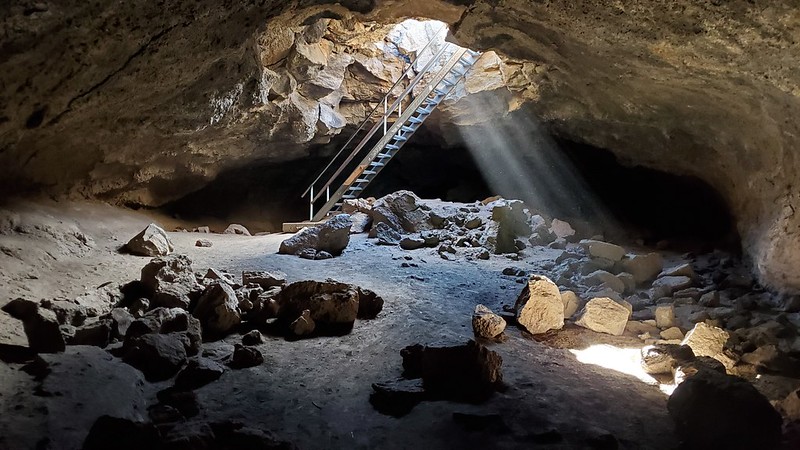 Oregon has a number of awesome caves to explore, from lava tubes to the Ape Caves.  Check out the list of our favorite Oregon caves to explore here.
23. Jump Out of a 747 On the Roof Of This Stunning Oregon Waterpark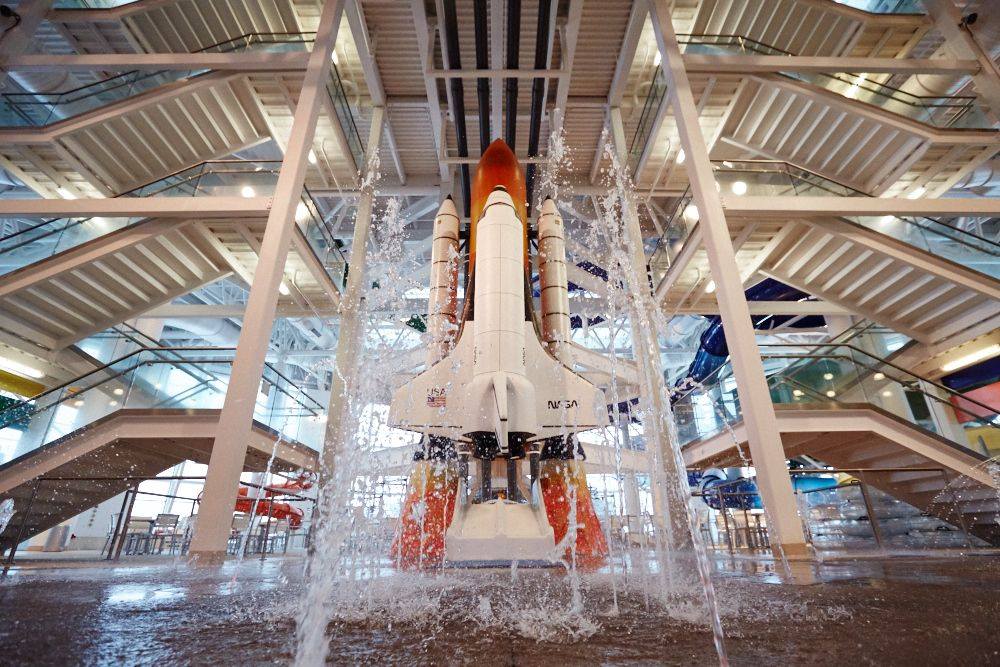 The Wings And Waves waterpark in McMinnville Oregon is a one of a kind waterpark with an aviation and space exploration theme.  Next door to the waterpark is the Aviation and Space museum which can take a day all by itself to explore.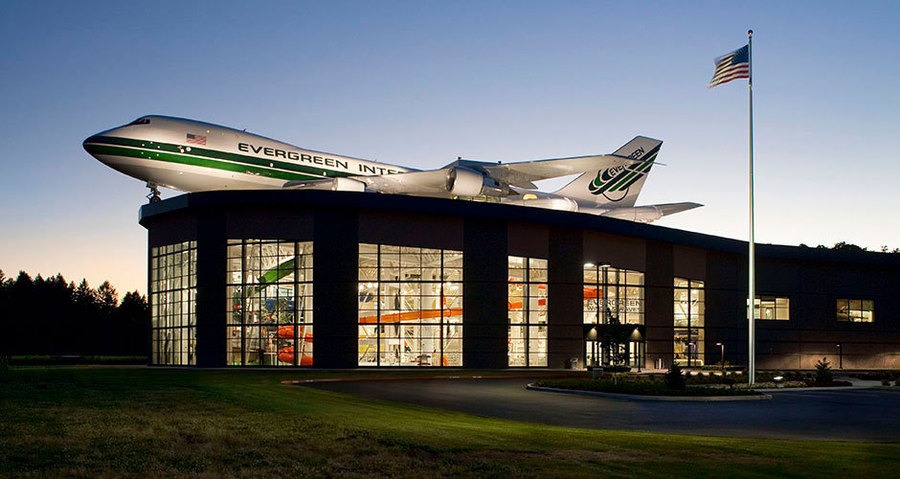 One of the highlights of Wings And Waves is the massive 747 airplane on the roof which has been converted into a water slide.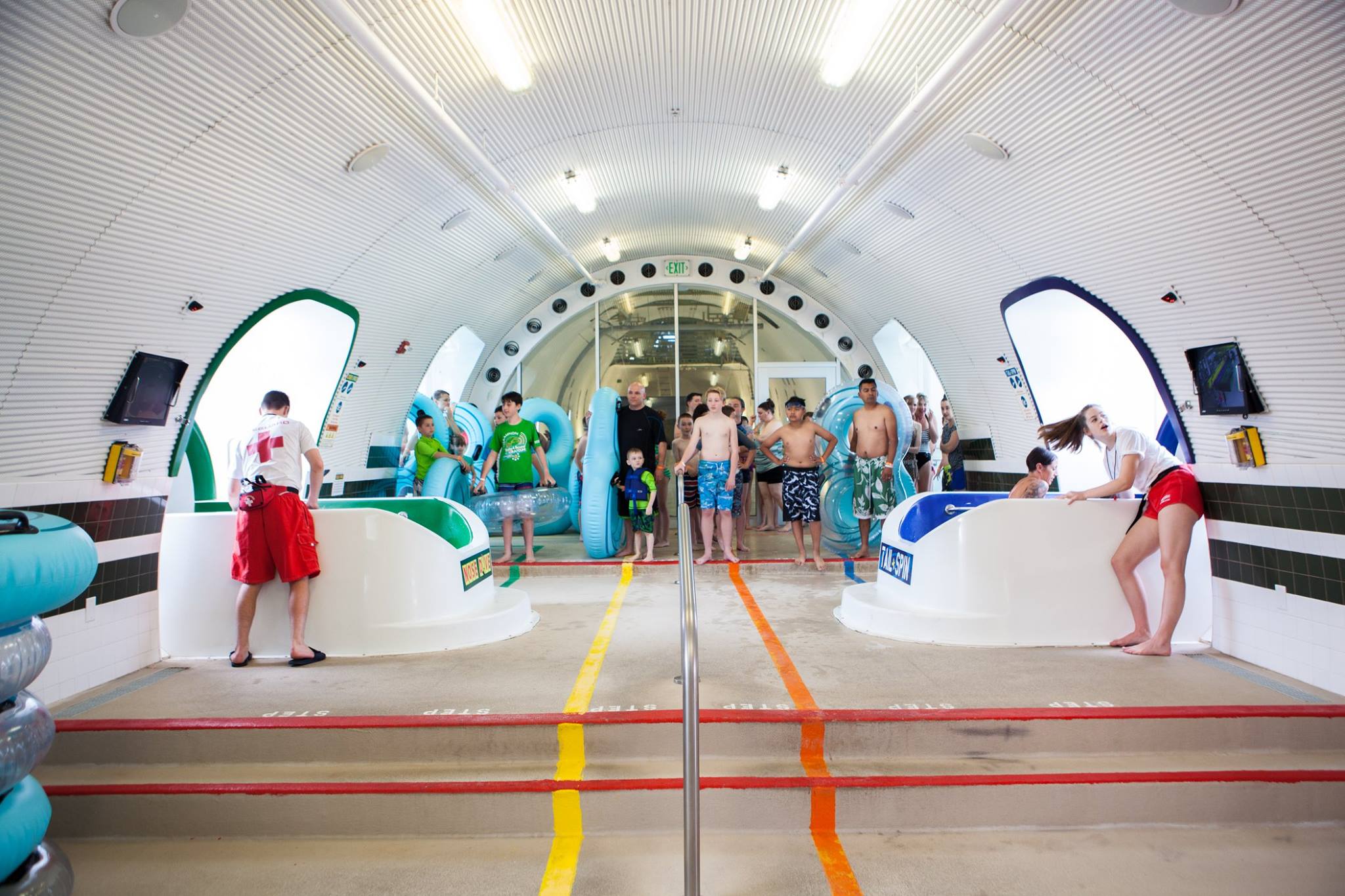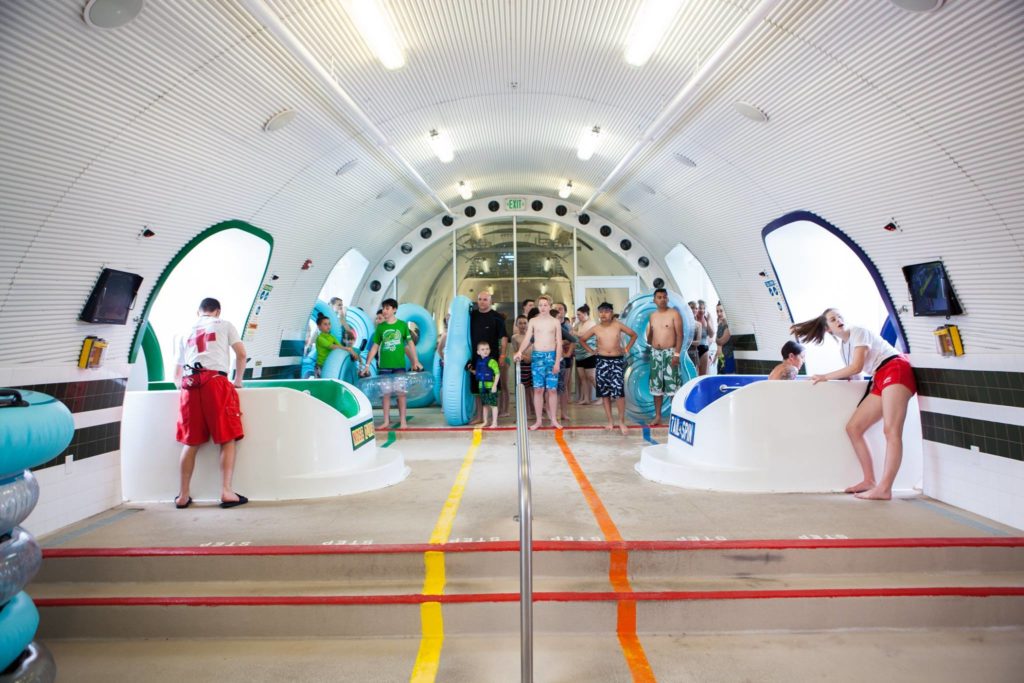 There's nothing quite like jumping out of a 747 into a slide and splashing down in the pool below.
24. Visit The Stunning Portland Japanese Garden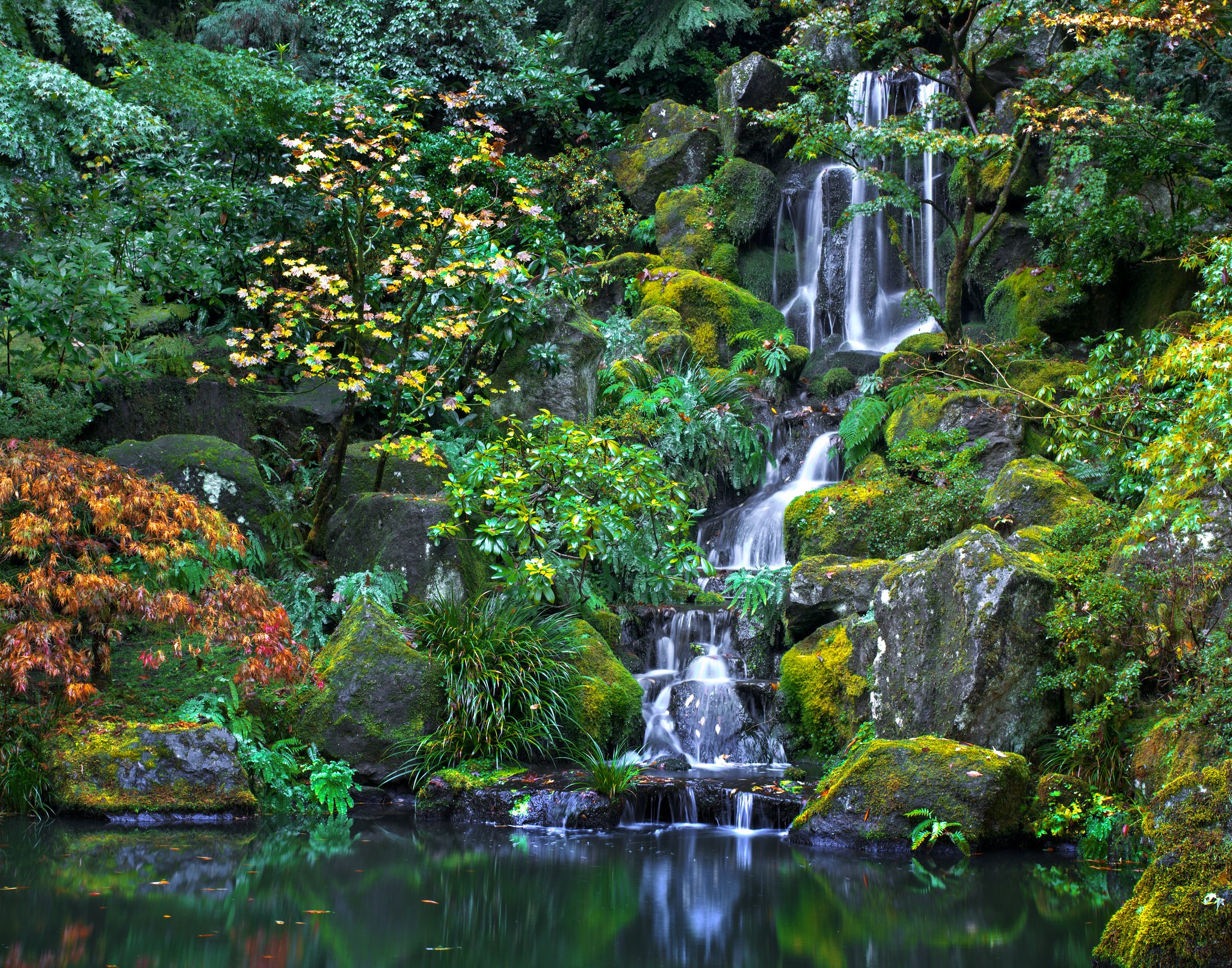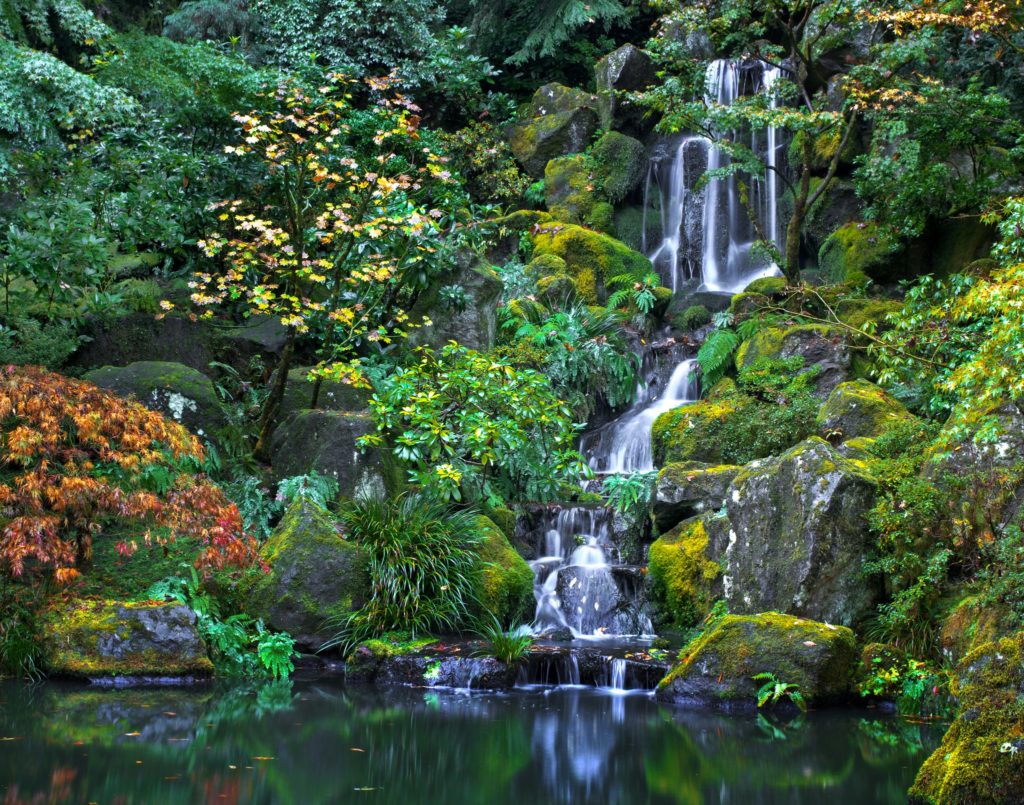 I can't recommend the Portland Japanese Garden enough.  This spot in the hills above Portland is a place of tranquility where you can take a stroll through gorgeous gardens.  Initially the Portland Japanese Garden was planted to heal wounds and bring two cultures together.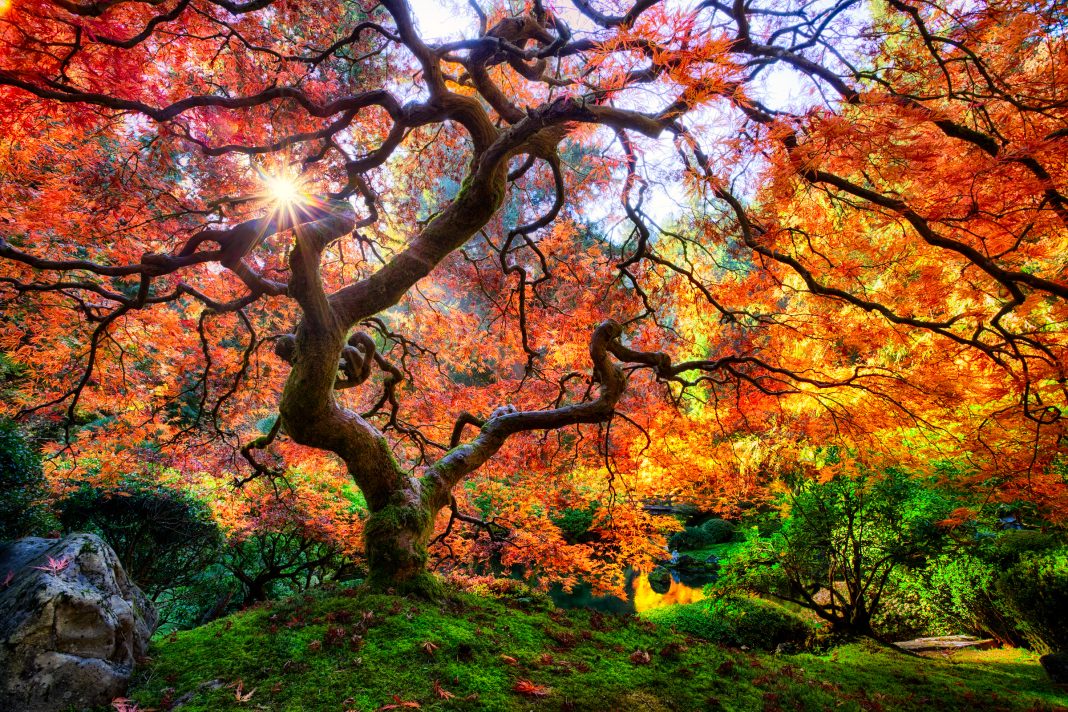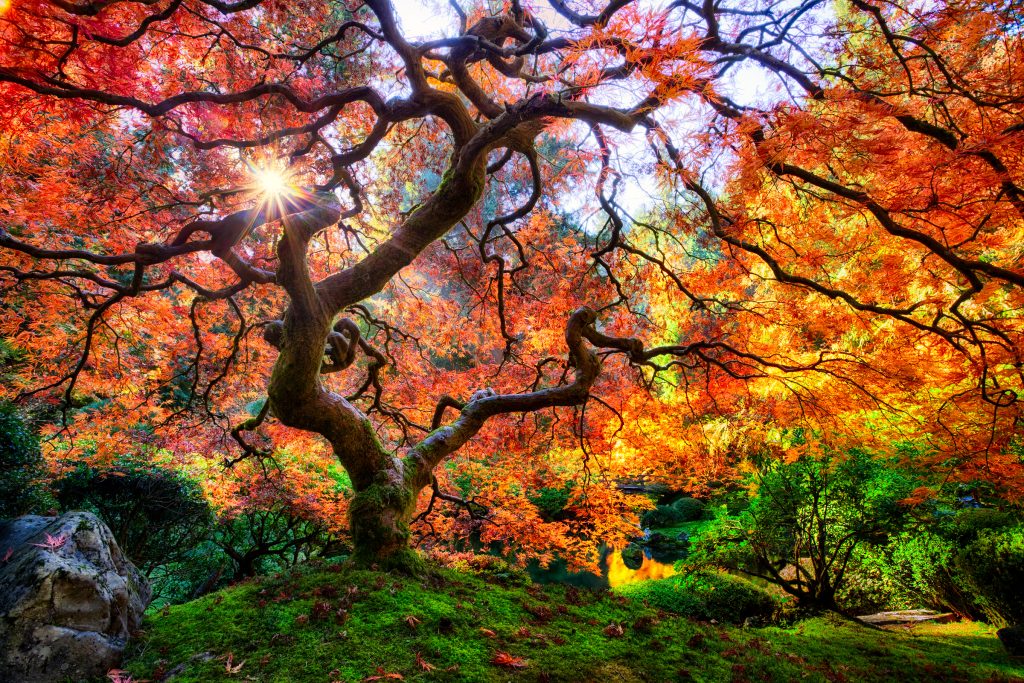 This space is an Oregon gem and a treasure to the city of Portland and is well loved.  You should visit the garden in all seasons to see how it changes, from brilliant oranges and reds in fall, to lush green in summer and beautiful blooms in the spring.
Another garden in Oregon you'll want to check out is the Oregon Gardens near Silverton Oregon.  The Japanese Garden and Oregon gardens are close enough together that you can visit both in a weekend.
How many of these places have you been to?  What would you include on your own personal top ten list of places to visit in Oregon?  Let us know in a comment or on Facebook.
We hope this article helped inspire you to check out the best things to do in Oregon. Make sure and see what other fun things are happening in Oregon here.
The post 23 Amazing Things To Do In Oregon In 2022 appeared first on That Oregon Life.
Source: That Oregon Life
Adventures,Entertainment,Featured,Interesting,Things To Do,Oregon Things To Do,things to do in Oregon,Things to do in Oregon Portland