RightTrack rewards Safeco policyholders for their safe driving habits. Customers receive an initial 10% discount upon enrollment that lasts through the review period. After just 90 days – half the time it takes to complete other carriers' telematics programs – they receive a final discount of 5% to 30% that stays with them through the life of the policy.
How it works
With RightTrack, customers can save as much as $513 per year on their auto insurance premiums (the average policy saves $171)*. It's free to enroll and easy to participate – and everyone's guaranteed a final discount of at least 5%. Your customers will never be surcharged for the driving behaviors monitored during their participation in RightTrack.
What we measure and how we calculate discounts
It all happens in the RightTrack smartphone app, which shows your customer's progress and projected savings in near real-time during the 90-day review period. To determine individual driver discounts, RightTrack evaluates four factors: braking, acceleration, nighttime driving and total miles driven.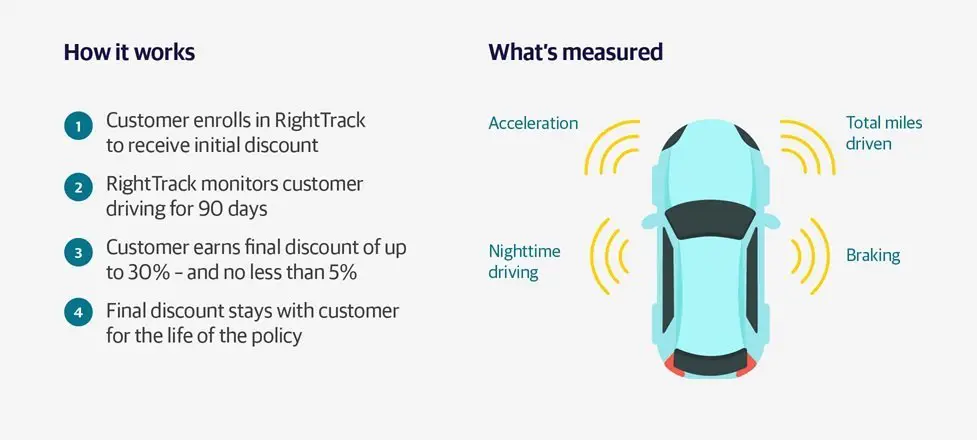 The final discount represents an average of all individual driver discounts on the policy. Drivers who don't participate earn individual discounts of 0%, so all drivers should participate to maximize policy savings.
*Projected savings based on the average premiums and vehicle participation rates of customers who completed the Safeco RightTrack plug-in program from October 2015 through June 2018.
Educate your customers about RightTrack
You're always there as a trusted advisor to your customers – and we do our best to give you what you need to promote and explain the value of our products and programs. To that end, we've created some useful resources to help you educate your customers about RightTrack.
Use RightTrack as a new business conversion tool
Enrolling in RightTrack presents virtually no downside for your customers. At minimum, participants end up with a 5% discount that lasts through the life of the policy. This makes RightTrack a powerful tool for winning new business.
*To participate in RightTrack mobile, customers need a compatible smartphone with GPS location capabilities — most iPhones running iOS 10.0 or later (iPhone 5s or newer) and Androids running OS 5.0 (Lollipop) or later are compatible. iPads, tablets and Windows phones are not compatible.
Learn more
If you are looking to enroll a customer who has already completed one of Safeco's telematics programs, or if you have other questions, call RightTrack Support. RightTrack Support 1-844-872-3326 Monday through Friday 8 a.m. – 5 p.m. PST